Your Reviews About the World
MyWorldReviews.com
Let the world know what you think
Leiden
Leiden, Zuid-Holland, Netherlands
Leiden, Zuid-Holland, Netherlands
View Map
Overall Experience:
7 / 10
Date Visited:
Monday, July 7, 2008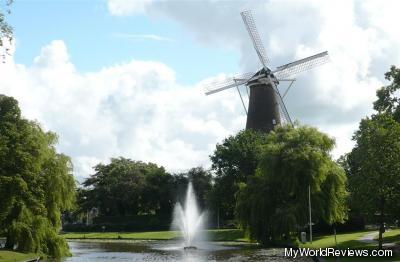 The windmill in the middle of town
Leiden is a great little city in the Netherlands. It's not the sort of place tourists usually visit, but it still is a beautiful city. Practically everyone here speaks English, so tourists won't have difficulty getting around or ordering meals.
Leiden is not that large, but the population is quite dense. Although you can walk from one end of the city to another, it feels larger than many cities in North America due to the density.
I found the city had a very nice homely feel. After a couple weeks here, the place really started to feel like home. It's a very comfortable city to visit.
Getting Here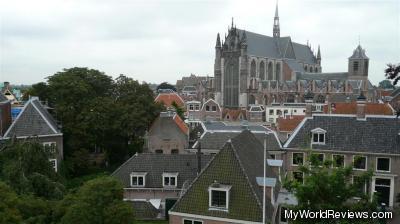 The view from the Citadel of Leiden (Burcht)
Visitors will likely arrive via the Leiden Central Train Station. Leiden is only one stop away from the Schipol (Amsterdam) airport. It is two subway stops away from Amsterdam (if you take an intercity train).
If you're planning on staying in the city, there is a nice hotel (The Golden Tulip) very close by. The city is quite small - visitors can easily walk from one end to the other (although it will take about an hour to walk the whole city). Most people ride bikes or walk to get around.
Things To Do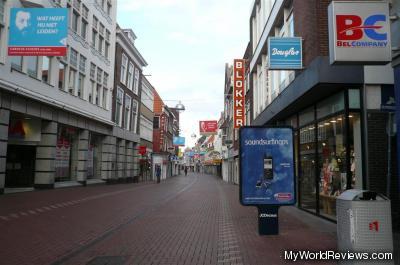 The main pedestrian street (Haarlemmerstraat)
Leiden has a walking tour called the Leiden Loop that takes visitors to some scenic and historic attractions in the city. The Leiden Citadel, a Rembrandt memorial (where his house was once located), and a windmill are some of the sites to see on the Leiden Walking Tour.
Most of the shopping in the city can be found on the main pedestrian street of Haarlemmerstraat. Although cars occasionally do drive on this street, it's definitely dominated by pedestrians. Bikes (and motorbikes) also zoom by, and will likely startle you if you're not paying attention.
This street is mainly for retail. Haarlemmerstraat does have a few restaurants, but they're small "take away" storefronts. Most of the restaurants are located either in the square near the windmill, or along the rivers.
The Municipal Museum of Leiden (Stedelijk Museum) is a free museum with information all about Leiden's history.
Notable Restaurants
If you're in the area, you will definitely have to try some dutch pancakes. Pannenkoekenhuis de Schaapsbel is a great pancake restaurant located near the Leiden Train Station. Their pancakes are large, and their prices are reasonable. My favorite restaurant in the city is Eazie - a "make your own stirfry" restaurant.