Your Reviews About the World
MyWorldReviews.com
Let the world know what you think
Wicked
New York, New York, United States
Gershwin Theater
New York, New York, United States
10019
View Map
Overall Experience:
8 / 10
Date Visited:
Sunday, August 24, 2008
The Stage of Wicked (before the show)
Wicked is a musical that shows the story of the two witches in the story "The Wizard of Oz". I was really impressed how this musical filled in a lot of the back story. I always had questions about the original story (why would water melt the witch? How did she bathe?), and this musical answers them beautifully. Rather than feeling like the story of Wicked was just "added on" to the original Oz story, Wicked really felt like it explained all of the things that the original story left out. Wicked complements the original Oz world, explains lots of the missing pieces, and makes it a more enjoyable story.
I thought all the actors in Wicked were well cast. The sets were also very good - this was definitely a higher-budget production than Hairspray. The story was also far superior, and it was presented in an entertaining manner.
I was slightly disappointed in the music. The song immediately before the intermission, "Defying Gravity", is simply spectacular. It is a very memorable song, and is a great way to suspend the play before the intermission. It's disappointing that none of the other songs were as powerful and memorable as this one. I remember enjoying the music during the play, but can no longer remember the songs.
Unfortunately, the ending of Wicked was also somewhat disappointing. It was very abrupt, and it didn't have a powerful finish. I was a bit surprised when the play ended. After the great finish before the intermission, I was expecting more.
Although there was a bit of humor, it's not really a comedy. The singing and dancing was enjoyable, but most enjoyable was the story.
Cost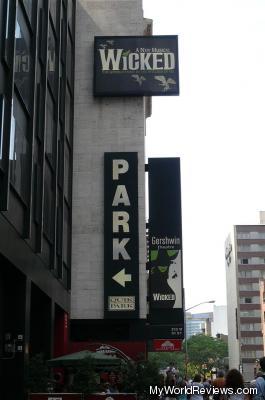 Outside of the Gershwin Theater
We paid $126.25 per ticket, plus a $32.75 "convenience charge" (when ordered from broadway.com). You can almost certainly get them cheaper from the box office, or elsewhere. When we visited, discount show tickets were not available, but that may change depending on the day.
For that price, our seats were located at the front of the "First Mezzanine". The cost of seats in the orchestra section were the same. Although we were far back, and fairly high, we still had a fairly good view of the stage. The seats in the mezzanine were "stadium style", so everyone had a clear view over the heads of people in front of them.
Estimated Show Time
Our show started at 3pm, and finished at 5:45pm. This included a 15-minute intermission.
review contents
Cost
Estimated Show Time
related reviews
More reviews in New York, NY
Been here? Want to write your own review of this live show?
linked reviews