Your Reviews About the World
MyWorldReviews.com
Let the world know what you think
Hairspray
New York, New York, United States
250 W 52nd St
New York, New York, United States
10019
212-757-8646
View Map
Overall Experience:
4 / 10
Date Visited:
Saturday, August 16, 2008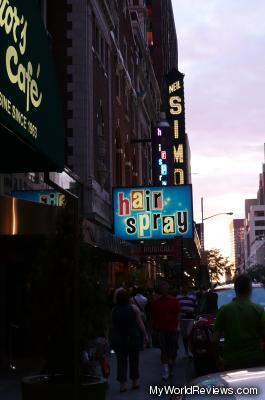 Hairspray at the Neil Simon Theatre
Hairspray is a broadway musical that we saw at the Neil Simon Theater in New York City. It tells the story of a larger girl and a visible minority trying to get on TV. The story follows a pretty typical plot, and has a happy ending.
The show was mostly singing and dancing, although each song was broken up with a bit of dialog. The stage had a neat light array behind it that changed colors throughout the show. That was fun to watch.
There were some famous performers acting in the show - George Wendt (from Cheers) and Ashley Parker Angel (from the musical band O-Town). George Wendt was very funny, and definitely a star in the show, Ashley Parker Angel had a good singing voice.
C: Overall, I thought that the story was pretty lame (like it is in most musicals), and the music wasn't very catchy. The performers did a good job, I suppose, but I didn't really think it was that exciting of an evening. I never was bored or disappointed during the show, but I wasn't on the edge of my seat, either. I found my mind drifted occasionally, since the performance was a bit boring.
A: I would rate the musical at least a 6. I thought the music and dancing was fun. The dialog was mildly funny. The story was about the racial rights movement in the 50s. I thought it was an interesting look into the past. Although I agree that I wasn't at the edge of my seat, I was certainly entertained.
Cost
We managed to get discount broadway tickets from TKTS the same day of our show. The tickets cost $55 each.
review contents
Cost
related reviews
More reviews in New York, NY
Been here? Want to write your own review of this live show?
linked reviews