Your Reviews About the World
MyWorldReviews.com
Let the world know what you think
The Road To Hana
Hana, Hawaii, United States
Overall Experience:
2 / 10
Date Visited:
Monday, May 12, 2008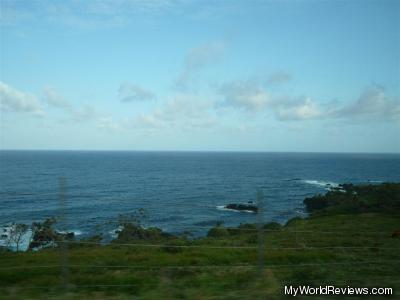 A view of the ocean from the Hana Highway
Hana (pronounced "Haw-nah", not "Hannah") is a city on the eastern edge of Maui. As a tourist, one of the things to do on Maui is to drive to Hana. The purpose of the trip is the drive, not the destination. There's almost nothing to see in Hana (with the exception of the Hana Lava Tube, which our whole group enjoyed).
When we were on our way to Hana, someone said to us that it's the kind of thing that you either love or hate. After doing this drive, we know what kind of people we are. Our entire day was spent driving. We spent approximately twelve hours on the road, and the road to Hana (the Hana Highway - Highway 360) is not a pleasant road. It twists, turns, and has many one-lane bridges. Several of our group members got carsick on this long drive.
While it's true that the scenery along the Hana Highway is nice, in my opinion, it is absolutely not worth the inconvenience of having to drive all day to see it. If you're the kind of person that loves driving and loves nature even more, than you might fall into the group of people that like this sort of thing. Good luck to you.
Things To See On The Way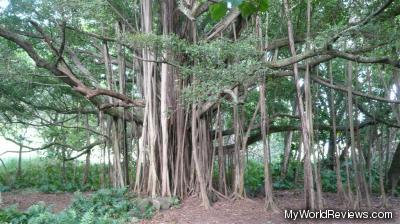 A banyan tree at the base of Haleakala National Park (just past Hana)
There are many audio CDs, guide books, and magazine inserts that help you decide what to see on your way to Hana. If this is the sort of thing that interests you, you might want to purchase a book or audio guide.
Here are some of the things we did and saw along our drive:
Estimated Visiting Time
Although Hana isn't all that far away, the road is very twisty and windy. You will need to take it slow. Additionally, you will want to allow extra time to see the sites along the way. Our entire trip, from Lahaina to the pools at the base of Haleakala National Park and back took approximately 12 hours.