Your Reviews About the World
MyWorldReviews.com
Let the world know what you think
Shrek The Musical
New York, New York, United States
1681 Broadway
New York, New York, United States
10019
shrekthemusical.com
View Map
Overall Experience:
7 / 10
Date Visited:
Sunday, May 17, 2009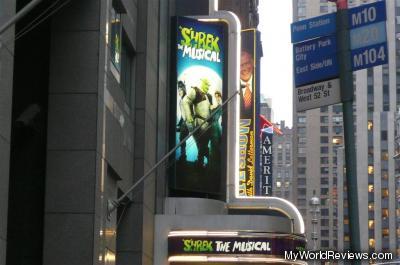 Shrek The Musical
Shrek is a musical currently performing on Broadway at the Broadway Theatre (between 52nd and 53rd streets). It is a fairly enjoyable show that's appropriate for the whole family. The show offers decent music - some songs are catchy, and some are a bit on the boring side. The story should be familiar to anyone who has seen the movie, although there are a couple minor alterations that they made to the musical version of Shrek.
When we saw the show, there were three substitutions - including a substitution for the main character (Shrek). That was disappointing, but everyone performing was still quite good.
Probably one of the neater things about the show was the stage - it had lots of pieces that spun and moved, and was quite impressive. It wasn't nearly as impresive as the stage in Ka (Cirque du Soleil), but it's probably the closest thing to that I've seen in awhile. The costumes were also bright, colorful, and often impressive.
Length of Performance
The show lasts approximately 2.5 hours, including one 15-minute intermission.
Cost
We purchased half price tickets to the show (on a Sunday), and the theatre still had many empty seats. Half price tickets aren't always available at TKTS Discount Booth, but often are.
review contents
Length of Performance
Cost
related reviews
More reviews in New York, NY
Been here? Want to write your own review of this live show?
linked reviews
Ka (Cirque du Soleil)
TKTS Discount Booth