Your Reviews About the World
MyWorldReviews.com
Let the world know what you think
Next To Normal
New York, New York, United States
222 West 45th Street
New York, New York, United States
10036
nexttonormal.com
View Map
Overall Experience:
7 / 10
Date Visited:
Sunday, April 5, 2009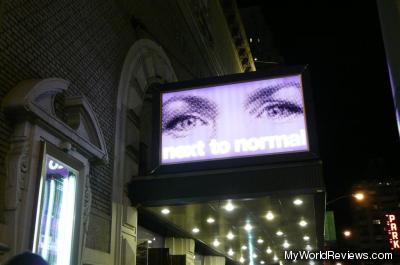 Next To Normal on Broadway
Next To Normal is a broadway play in New York City. It is definitely a musical, although it doesn't have the same "happy dancy" music as some other musicals. The music is quite catchy, and is a modern blend of light rock and pop music. The musical features performers with strong vocals, and the music has many parts that showcase their voices in harmony.
The story of Next To Normal features a mother with bipolar disorder, and how her illness affects her family. Although it is an emotional story, it is quite well written, and there are enough comedic scenes in the show to keep it enjoyable. It never gets too depressing.
We went to Next To Normal as a group of four adults (it's probably not a show that kids would enjoy). We all enjoyed the show, but none of us really loved it. It was certainly entertaining, and the music was quite good, but it wasn't an amazing experience (like Avenue Q).
We were able to get half price tickets to Next To Normal from the TKTS half price ticket booth at the south street seaport.
The show lasted approximately 2 hours and 15 minutes, including a 15 minute intermission.
related reviews
More reviews in New York, NY
Been here? Want to write your own review of this live show?
linked reviews