Your Reviews About the World
MyWorldReviews.com
Let the world know what you think
Big Onion Tours: The Original Multi-Ethnic Eating Tour
New York, New York, United States
Delancey & Essex
New York, New York, United States
bigonion.com
View Map
Overall Experience:
6 / 10
Start Date:
Sunday, August 17, 2008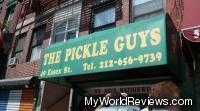 The Pickle Guys - our first stop
The pickle we tried
Big Onion Tours is a private organization operating in New York City that offers a variety of tours of the area. Most of the guides are graduate students.
Our guide for this tour was friendly, and she had a surprisingly powerful voice. It was easy to hear her, even over the traffic and noise on the street. She was also quite knowledgeable, and had some neat stories about the areas that we walked through.
Although the tour was fairly interesting, we were a little disappointed in the "eating" part of the tour. I suppose we expected more for the $20/person admission charge. We were hoping that we would get to try foods from restaurants from the different areas that we walked through, but we really just got a couple of tiny snack items. We were hoping to get ideas of places to go eat later, but we actually only went by one restaurant.
The tour didn't really go all that far - everything was located fairly close. The longest amount of walking we did in one stretch was just a couple of blocks. There weren't any stairs on the tour either. Even if you're not in the best physical shape, you should be able to keep up on this tour without any problems.
Cost
Tours typically cost $15 for adults (and $12 for students/seniors/children). There is an additional $5 charge for the eating tour.
Tour Itinerary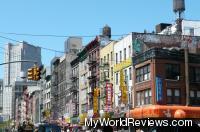 China Town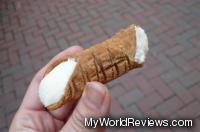 Sweet cannelloni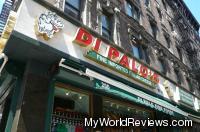 The store in Little Italy where our guide picked up the cheese and meat
Our tour started at the corner of Delancey & Essex streets. We arrived a little bit before the 11a start time, so we waited for a bit with a large crowd of other people. Although they requested "reservations" (either via email or phone) before, they didn't check to verify any of our names.
There were enough people waiting that they split people into separate groups. There was one person collecting money, and he had different colored stickers for people. As he collected money, he gave people stickers. When he ran out of one color, that group left.
Our group moved over to the side, where we learned a bit about the history of the area. We also tried a cooked plantain. The plantain was probably the best snack we got on the tour.
From there, we walked about a block to an area where Jewish immigrants used to live. Most areas are under constant change, so there weren't very many Jewish stores left in the area. There was a kosher pickle store there where we got to try a pickle. It tasted like it was pickled. Walking another block, we tried a piece of halva (sweetened ground sesame seeds). We stopped to learn about tenements and the living conditions of the immigrants that lived in the area.
From here, we walked to China Town. Our guide purchased some lychee fruit from a street vendor here. We had a few stops in China town where our guide told us about some of the statues in the area and pointed out some famous places that had stories to go with them. We also tried a prune with salt, and a rose candy. The rose candy was not bad, but the prune was a bit weird. It was a strange flavor combination.
We walked another couple of blocks to Little Italy. Here, we tried some sweet cannelloni from a bakery, and some cheese (mozzarella and parmesan) and a small piece of cured meat from another shop. Our tour ended here.
Estimated Time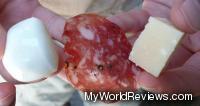 Italian cheese and cured meat
The tour lasted about two hours from start to finish. Our group waited for each traffic signal to change before crossing - an odd thing to do in New York City.
review contents
Cost
Tour Itinerary
Estimated Time
related reviews
More reviews in New York, NY
Been here? Want to write your own review of this location?
linked reviews