Your Reviews About the World
MyWorldReviews.com
Let the world know what you think
Little Italy
New York, New York, United States
Little Italy
New York, New York, United States
View Map
Overall Experience:
7 / 10
Date Visited:
Sunday, August 10, 2008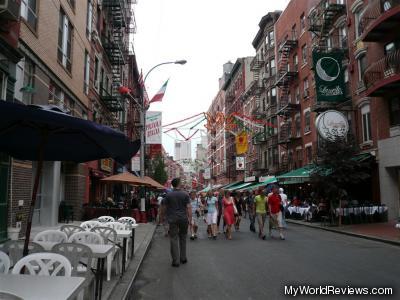 Little Italy
Little Italy is a touristy Italian neighborhood in Manhattan. It runs along Mulberry street between Broome Street and Canal Street. The area is often nicely decorated with Italian colors, and is full of restaurants and street vendors selling Italian food. Little Italy is a popular tourist destination - definitely somewhere that most people should visit during a trip to Manhattan.
Estimated Visiting Time
It takes about 20 minutes to walk around Little Italy, but if you're in the area, be sure to leave time to have lunch, dinner, or at least a dessert at one of the many restaurants located here.
Getting There
The subway is the easiest way to get to Little Italy - lots of trains have stops nearby (J, M, Z, 6, N, R, Q, W).
review contents
Estimated Visiting Time
Getting There
related reviews
More reviews in New York, NY
Been here? Want to write your own review of this attraction?