Your Reviews About the World
MyWorldReviews.com
Let the world know what you think
The View at Marriott
New York, New York, United States
1535 Broadway
New York, New York, United States
10036
212-398-1900
marriott.com
View Map
Overall Experience:
5 / 10
Date Visited:
Saturday, September 13, 2008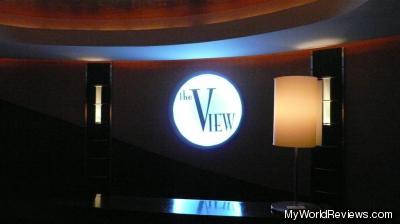 The View Lounge/Restaurant
Seating:
Upper level lounge
The View is a revolving restaurant and lounge (with a buffet) located on the 48th floor of the Marriott near Times Square, NYC. To get to The View, take the escalators to the third floor of the Marriott, then go to the elevators. Elevators F and G will take you to the 48th floor - it's quite neat to look outside as the glass elevators take you up through the tall atrium of the hotel.
The View consists of two rotating floors. The top floor (48th floor) is a lounge area that serves drinks, and has a small food buffet, and another small dessert buffet. The restaurant is located down the stairs on the 47th floor. The restaurant revolves once approximately every 70 minutes.
We went to the lounge area of The View during our visit. If you stay past 9:00pm, there is a $7/person cover charge (regardless of when you arrive).
This place is overpriced, but a neat place to go when you're visiting NYC. The view is quite nice and you get to enjoy it in all directions. If you come as a couple, you may be seated next to the window. The view from one of the window seats is the best, although all tables are pretty close to the windows, so anywhere you sit is pretty good.
Dress
"Smart Casual" - most people wear nice jeans and a button shirt.
Cost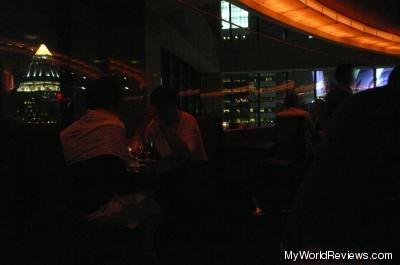 Inside The View Lounge
Quite expensive - you're paying for the view. Cocktails were $16 each. If you were there past 9:00pm, each person in your group has to pay an additional $7 cover charge. There is also a 1-drink minimum per person.
There was a small food buffet and a small dessert buffet (with a chocolate fountain). The dessert buffet could be purchased separately for only $18. Considering the cost of a single cocktail was $16, in the future, it would be better value having the dessert buffet instead for an additional $2.
Service
The bar is table-service only.
Items Ordered
Pomegranate Margarita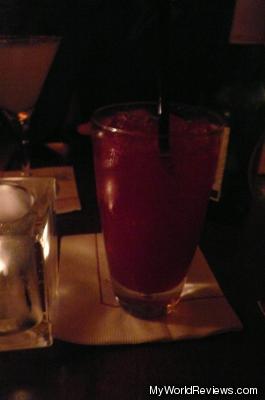 Pomegranate Margarita
Jose Cuervo Especial Gold, Pama Pomegranate, Lime Juice, Simple Syrup
Cocktails could be ordered frozen (blended ice), on the rocks, or plain. This one was ordered with ice. It was very sweet - a little too sweet, really. At $16, it tasted overpriced.
review contents
Dress
Cost
Service
Items Ordered
Pomegranate Margarita
related reviews
More reviews in New York, NY
Been here? Want to write your own review of this restaurant?
linked reviews