Your Reviews About the World
MyWorldReviews.com
Let the world know what you think
Times Square
New York, New York, United States
Broadway and 7th Avenue
New York, New York, United States
View Map
Overall Experience:
9 / 10
Date Visited:
Monday, April 14, 2008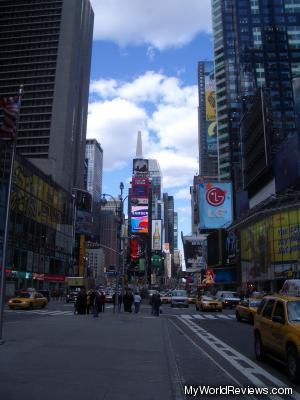 Times Square
Times Square is an area in midtown Manhattan that's formed by the crossing of Broadway and 7th Avenue. All the buildings in the area are covered with bright lights, so it's always fun to visit. Historically, it's always been a place where large groups of people gather during important world events. During other times, it's just a busy place with a lot of people (and a lot of tourists).
At nighttime, Times Square has a bit of the feel of the Las Vegas strip. All the lights make it a fun, bright, and festive place to visit. Although most of the bright lights are ads or displays by large companies, there are still lots of fun stores that you can go into and visit in Times Square - the Hershey's Store, the M&M Store, and the Toys'R'Us store are just some examples. Visitors can also purchase half price broadway tickets from the tkts booth located in Times Square.
Times Square also hosts a number of events throughout the year. It is probably best known for the New Years Eve Celebrations at Times Square.
Getting There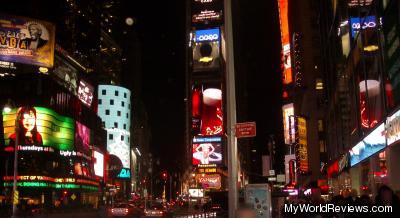 Times Square at night
Times Square is home to a very large subway station. Many of the subway lines in New York stop at Times Square. You can catch the 1, 2, 3, 7, N, R, Q, W, and Shuttle to Grand Central trains at Times Square. There is also an underground passage (inside the subway station) to the A, C, and E trains (which are located on 8th avenue).