Your Reviews About the World
MyWorldReviews.com
Let the world know what you think
Prague TV Tower Restaurant
Prague, Prague, Czech Republic
Mahlerovy sady 1
Prague, Prague, Czech Republic
+420 242 418 778
www.tower.cz/english/english.htm
View Map
Overall Experience:
7 / 10
Date Visited:
Wednesday, March 12, 2008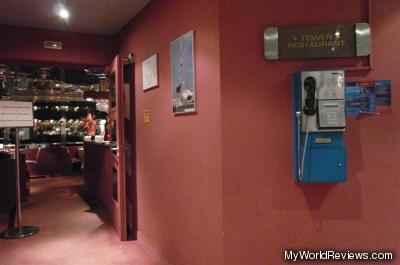 This is a review for the restaurant that's located up the Žižkov Television Tower in Prague. With your paid admission to the tower, you get a 5% food discount at the restaurant. Although the restaurant (like the tower) was deserted when we visited (around 6:30pm on a Wednesday), the food was of quite good quality, and it was reasonably priced. It was one of the better meals we had in Prague.
Service
The menus here listed the items in both Czech and English. The waiters also spoke English, so we didn't have any difficulty ordering. The service was maybe a little slow, but it wasn't too bad.
Cost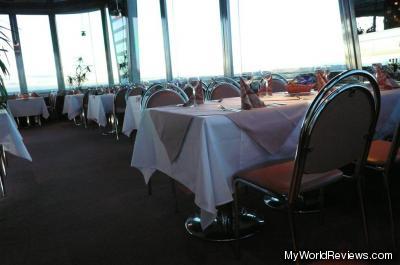 Inside the restaurant
Everything here was fairly reasonably priced. Usually tower restaurants like to charge more for their food, because the view is quite good. I didn't get that impression in the TV tower restaurant. Soups were 60 Kc, and main entrees were around 200 Kc. Salads ranged from 40-80Kc.
Dress
The restaurant felt fairly casual, but that may be because we were dressed casually, and we were the only people there. We were wearing jeans and t-shirts, and didn't feel out of place.
Items Ordered
Bread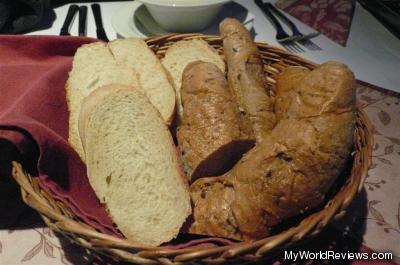 A bread selection was brought to our table after we ordered. Like most restaurants in Prague, the bread was hard and stale. People here must like it that way, although I don't understand why.
Cream of Asparagus Soup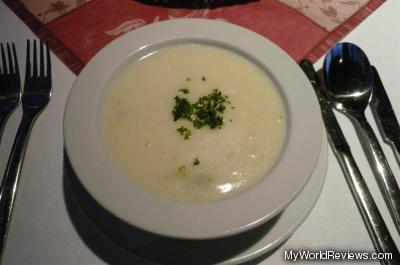 Cream of Asparagus Soup
The soup was served luke-warm. It definitely could have been hotter. It was an average quality cream soup, with the faint flavor of asparagus. There were a couple of small pieces of asparagus at the bottom of the bowl.
Greek Salad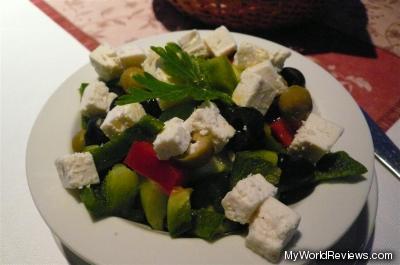 Greek Salad
Greek salad with olives and Balkan cheese
This greek salad had a very poor dressing - I think there was just a bit of oil in the bowl. The salad was served in a small bowl, making it difficult to mix. It was also a difficult salad to eat with the provided utensils - the prongs on the fork were too small to stab or scoop any of the vegetables.
Despite all those complaints, the salad was actually fairly good - there were a lot of good pieces of vegetables in it, and they all tasted pretty good. There wasn't any lettuce - like a Greek salad should be.
Kung-Pao Chicken; Broccoli Side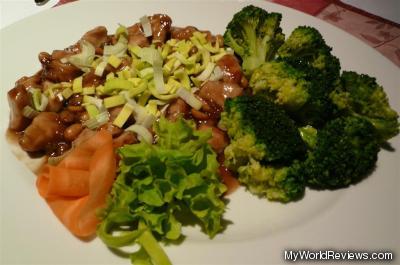 Kung-Pao Chicken with a side of Boiled Broccoli
Kung-pao chicken pieces, peanuts, soya sauce, chillies, white wine
Cost:
195 Kc for the chicken, and 60 Kc for the broccoli
We ordered the Kung-Pao chicken with a side dish of broccoli, and I was a bit surprised to find that the chicken itself didn't come with anything - it was just chicken! If I had known, I probably would have ordered some rice or noodles to go with it.
The chicken itself was quite salty. It was served in a salty kung-pao sauce that was quite sweet, but too salty. Some of the chicken pieces were fatty, but most were good.
The boiled broccoli was quite good, although it was served plain. It was what you would expect from boiled broccoli.
review contents
Service
Cost
Dress
Items Ordered
Bread
Cream of Asparagus Soup
Greek Salad
Kung-Pao Chicken; Broccoli Side
related reviews
More reviews in Prague, Prague
Been here? Want to write your own review of this restaurant?
linked reviews