Your Reviews About the World
MyWorldReviews.com
Let the world know what you think
Paris Marriott Rive Gauche
Paris, Ile-de-France, France
17 , Boulevard Saint Jacques
Paris, Ile-de-France, France
75014
33-14-078-7980
www.marriott.com
View Map
Overall Experience:
8 / 10
Check-In Date:
Friday, September 4, 2009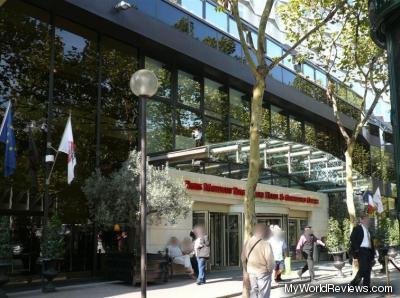 Paris Marriott Rive Gauche
The Paris Marriott Rive Gauche hotel is a nice, standard Marriott hotel. The rooms were clean, nicely furnished, and had everything one would expect from a Marriott hotel. The service was good, and everyone spoke English.
The hotel has a free fitness center that includes many new weight machines, and a large space for fitness classes, although they only offer a few classes per day. The hotel breakfast was expensive - 20€ per day per person. High-speed internet in the rooms was also expensive - 20€ per day.
The Room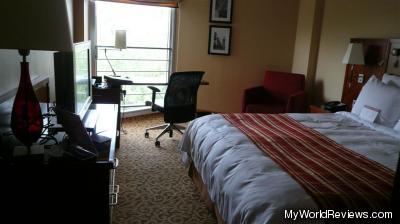 Bedroom
The room looked fairly modern and included a flat screen TV. The bed was a King size, which is not as common in Europe. The bed sheets were super soft, and felt really luxurious. I've never felt such soft bed sheets before. The bathroom had a separate room for the toilet, which was a bit weird. Otherwise, it was fairly nice and included a typical European-style shower head/hose combination.
The window did not open, which was annoying because the weather was really nice out. We were on the 5th floor and didn't have much of a view from our window. At night, we could see the spot-light from the Eiffel Tower coming from behind a tall building. It's possible that higher-up rooms or rooms further down the hall had a nicer view.
Location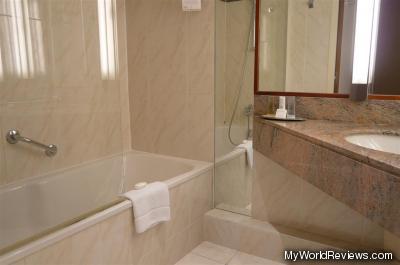 Bathroom
The Paris Marriott Rive Gauche hotel is located in the 14th district in Paris. It is a little further from the main tourist attractions, but very well situated in the city. It is about a 30 minute walk from the Notre-Dame Cathedral and further from the The Eiffel Tower. However, it is right on the 6 subway line, which is very convenient for getting to many of the tourist attractions (including the Eiffel Tower and Arc De Triomphe). It is also easy to get to the airport and main train stations using the RER B. There are a few restaurants and cafes very close to hotel, and the nearby Denfert-Rochereau circle has many restaurants and cafes. It is just a bit further away from the hotel.
Cost
The rooms are cheaper than similar rated hotels closer to the center of Paris. I think the cost savings are well worth the distance. The "extras" at the Hotel are quite expensive. I wouldn't pay 20€ for a breakfast in Paris, you can get really good breakfast pastries in the area for only a couple of euros. Likewise, 20€/day for internet access is ridiculous. Check the hotel website for room rates at the time of your visit. When we visited, we paid under $200 USD per night. There was an additional 3€ per day tax, paid at check out.