Your Reviews About the World
MyWorldReviews.com
Let the world know what you think
Notre-Dame Cathedral
Paris, Ile-de-France, France
6 Parvis Notre-Dame
Paris, Ile-de-France, France
75004
+33 (0)1 42 34 56 10
notredamedeparis.fr
View Map
Overall Experience:
8 / 10
Date Visited:
Sunday, September 6, 2009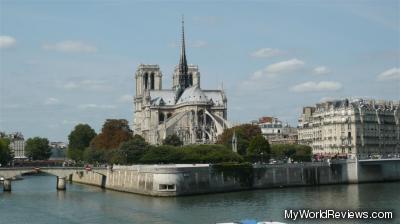 Notre Dame Cathedral
Notre-Dame Cathedral (Cathédrale Notre Dame de Paris) is a famous cathedral located in the center of Paris, on the Île de la Cité. It's a nice big church, and entrance is free. Due to its fame, it is one of the attractions not to be missed in Paris. Visitors can walk around the cathedral and take pictures, even during service time (of which there are many - around five every day).
In addition to just going in the cathedral, visitors can also go up the towers, or visit the archeological crypt just outside.
The Towers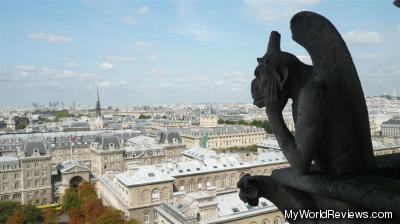 The view from the top of the cathedral
Entrance to the towers is located outside the cathedral. There is a self-guided "tour" of the towers, which is really just a walk up one tower, and down the other. Going up the towers is a lot of fun. I got the impression that we were visiting an area of the cathedral that tourists don't often get to see. It felt like we were seeing "behind the scenes" of the cathedral.
The walk involves going up around 400 stairs, and through many narrow spiral staircases. There are lots of great views of the city up at the top of the towers. Visitors can also see the large bell at the top of the tower, that is only rung once a year.
Cost
Admission to the cathedral is free. There is an 8€ charge if you want to go up the towers. Admission to the towers is included in the Paris Museum Pass.
Estimated Visiting Time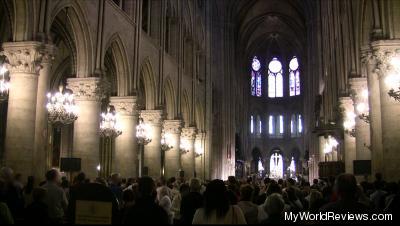 Inside Notre-Dame
Visitors should allow 20 minutes to walk around inside the cathedral. If you choose to go into the towers, there is often a long line. The line moves slowly, admitting only about 20 people every 10 minutes. The tour of the towers provides some great views - visitors should expect to spend 45 minutes in the towers, in addition to any time spent waiting in line.