Your Reviews About the World
MyWorldReviews.com
Let the world know what you think
M&M's World
Las Vegas, Nevada, United States
3785 Las Vegas Blvd South
Las Vegas, Nevada, United States
89109
702–736–7611
mymms.com/merchandise/las_vegas.asp
View Map
Overall Experience:
7 / 10
Date Visited:
Thursday, October 11, 2007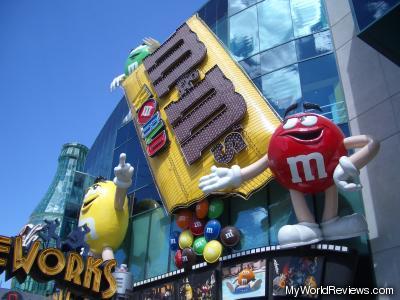 M&M's world is the M&M store in Las Vegas. It's a popular tourist site, and has lots of M&M merchandise for sale. If you have access to a car while in Las Vegas, you can also check out Ethel M Chocolate Factory for more information about the history of M&Ms.
The store itself is small, but is four stories tall. There are lots of m&m's available for purchase, and even more m&m related products (shirts, toys, mugs, and really anything else you can think of). There is a bit of history, showing how the mascots have changed in look over the years.
The Wall of M&Ms
A Wall of M&Ms - look at all the colors!
The M&M store has a huge wall of M&Ms - every color you could think of is here (including oddities like silver and gold). Find your favorite color in milk chocolate, dark chocolate, white chocolate, or peanut filled!
I Lost My M In Vegas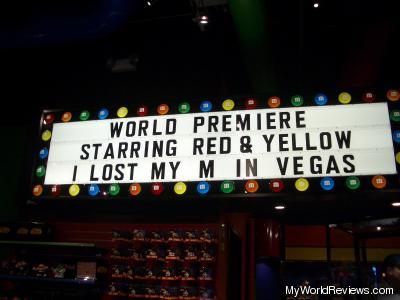 M&M 4D Movie: I Lost My M In Vegas
"I Lost My M In Vegas" is a 4-D movie starring Red and Yellow (m&ms). The movie is approximately 15 minutes long. It's a 3D movie (so there are eye glasses), and various other typical interactive things happen so they can call it a 4D movie. The movie was cute - kids would probably love it. It is a free attraction.
Other things to see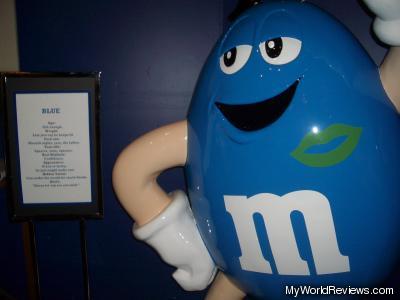 Blue
One room has statues of all your favorite M&M characters, along with fact sheets about them. There is also a walking tour through a simulated m&m factory - you get to shrink down and pretend you're an M&M.
Estimated Visiting Time
One hour is sufficient to see everything in the M&M store.
review contents
The Wall of M&Ms
I Lost My M In Vegas
Other things to see
Estimated Visiting Time
related reviews
More reviews in Las Vegas, NV
Been here? Want to write your own review of this attraction?
linked reviews