Your Reviews About the World
MyWorldReviews.com
Let the world know what you think
Lateral
Paris, Ile-de-France, France
4, Avenue Mac-Mahon
Paris, Ile-de-France, France
75 017
014-380-2096
www.cafelateral.com
View Map
Overall Experience:
6 / 10
Date Visited:
Sunday, September 6, 2009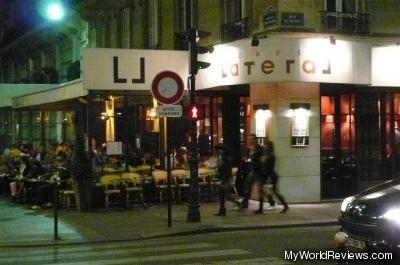 Cafe Lateral
Lateral cafe is a restaurant near the Arc De Triomphe. It is a casual cafe with a variety of salads, sandwiches, and main dishes. The food here was pretty good, and the restaurant itself looked quite nice. There was a large outdoor patio, but it was also quite smokey.
Dress
Casual - shorts and t-shirt are fine.
Cost
Most dishes were 10-20€.
Service
The menus were all translated into English (although with poor grammar) and our waiter also spoke English fairly well.
Items Ordered
Boule De Mozzarella "Di Buffala"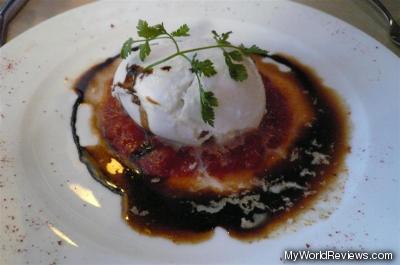 Boule De Mozzarella "Di Buffala"
Mozzarella on it's puree tomatoes in the basil, Caramel with the balsamic vinegar
The mozzarella was fresh and delicious. It came served on a cold tomato sauce which was kind of weird. This appetizer would have been better with fresh tomatoes. We were also served some French bread which was good for dipping in the sauce.
La Cabrita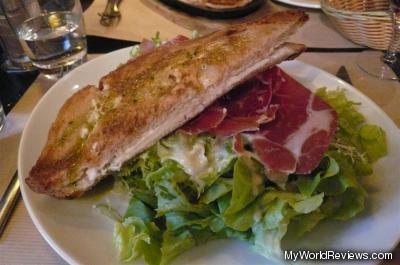 La Cabrita
Green salad, country ham, grapes, tomatoes, fresh goat's milk cheese spreaded on country bread, olive oil and fine herbs.
The country ham was a cold cut of fatty meat, and was not to my taste. I was excited to try out this salad because it listed grapes in the ingredients, but there were no grapes in the salad (although they may have been in the dressing). The salad was mostly greens. The dressing was a bit sweet, and there was way too much of it on the salad. Although the salad was a bit disappointing, the toasted bread with goat cheese, olive oil, and herbs was delicious!
Filet Mignon De Porc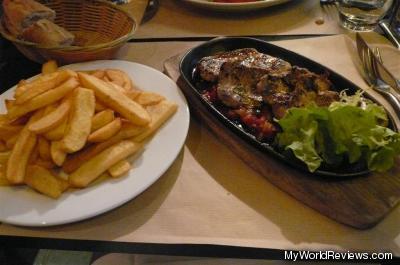 Filet Mignon De Porc
Grilled pork filet mignon with pepper of espelette
The meal was lacking some vegetables. The meat was decent. I think it was served in the dish it was cooked in. The potatoes were disappointing. They were very plain and dry and weren't served with anything.
review contents
Dress
Cost
Service
Items Ordered
Boule De Mozzarella "Di Buffala"
La Cabrita
Filet Mignon De Porc
related reviews
More reviews in Paris, Ile-de-France
Been here? Want to write your own review of this restaurant?
linked reviews