Your Reviews About the World
MyWorldReviews.com
Let the world know what you think
Holit Tour of Petra
Arabah, Aqaba, Jordan
Arabah, Aqaba, Jordan
052-8082020
holiteilat.co.il/English
View Map
Overall Experience:
7 / 10
Start Date:
Tuesday, March 25, 2008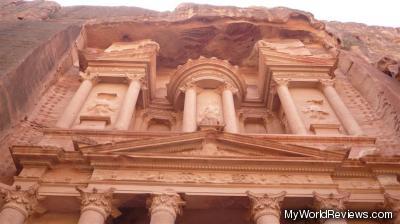 Looking up at The Treasury at Petra
The bus that drove us to Petra in Jordan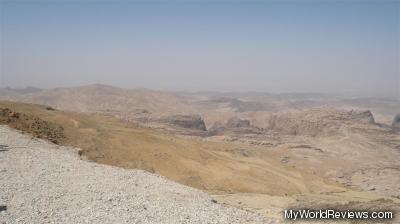 The view from the photo stop our bus made on the way to Petra
The mine field while crossing the border
This review is for a 1-day tour of Petra offered by Holit Desert Tours. Our day started at 7:30am, when the tour bus picked us up at our hotel. We were staying at the Moriah Sheraton, which was the last stop on the buses pickup route. Each member of our group gave the bus driver 35 USD which was used to pay the Jordanian border fees, and to tip our Jordanian guide.
The bus took us from the hotel to the Eilat/Aqaba border crossing. The drive took approximately 10 minutes. Going through the "exit" passport control was easy - everyone in our group waited in the line, and we got our passports stamped with the "Israel Exit" stamp. We then walked 200m through no-mans land to the Jordanian border. (There were signs on either side of the crossing that said "DANGER - MINES!" Apparently the border crossing is surrounded by a mine field).
At the Jordanian side of the border, we were introduced to our Jordanian guide. He had a list of all our names and passport numbers, and collected everyone's passports. It was a bit weird being in between two countries without our passports, but it all worked out. The Jordanian guide was gone for approximately one hour. There were bathrooms in the waiting area (which someone said were very dirty, although we didn't try them) and a small shop that sold snacks and souvenirs.
After the passports were distributed to us, we boarded another bus at 9:00am that drove us to Petra. Our guide gave us a 30-minute history lesson about the area while we were driving. We had one rest stop on the way at 10:30am. It was at a small shop that sold souvenirs and had free bathrooms. The bathrooms were dirty, but could have been much worse. We also had one photo stop from a location that was on a hill at 11:30am. There was some nice scenery there.
On the drive, we were each given a bottle of water, but no fruit (like the informational sheet said we would receive). We luckily brought our own snacks, since we didn't have lunch until 3:45pm.
The bus arrived at Petra at noon. We had time for a bathroom break in the visitors center while our guide purchased tickets for us. We left the visitors center and started walking through Petra at 12:30pm. We had a 1-hour "walking tour" that took us down to The Treasury. The walking tour was quite poor - most of the sites our guide was trying to point out were eroded, and he walked very slowly (so everybody could keep up).
We had some free time down at the sites, and made our own way back to the bus at 3:30pm. We had a 5-minute drive to the Silk Road Hotel, where we had a buffet lunch. The bus left the hotel at 4:30pm. At 6:20pm, we arrived at Aqaba, where our guide gave us a short narration about the area. The pamphlet said we would have a "tour", and I guess we did have a driving tour, which was perfect - by this time, everyone was exhausted, and nobody wanted to move.
We got to the border at 6:45pm. Again, we gave our passports to the Jordanian guide, and he had them stamped. After walking through the road that went through the mine field, we had to go through Israel security. They were quite thorough, and put most bags through an x-ray machine. We also went through passport control to get our "entry" stamps into Israel. We boarded the bus on the Israeli side, and we were the first drop off stop. We made it back to the hotel at 7:45pm.
Cost
The tour cost $160 USD per person. It was expensive, and I felt that it should have been cheaper. There really isn't any reason the tour should have been so expensive. Although I felt it was overpriced, I'm glad I went.
Estimated Time
This is a full-day tour. It takes approximately 12 hours, from pick-up to drop-off.