Your Reviews About the World
MyWorldReviews.com
Let the world know what you think
Guys & Dolls
New York, New York, United States
208 W 41st St.
New York, New York, United States
10036
212-921-8000
guysanddollsbroadway.com
View Map
Overall Experience:
4 / 10
Date Visited:
Tuesday, April 7, 2009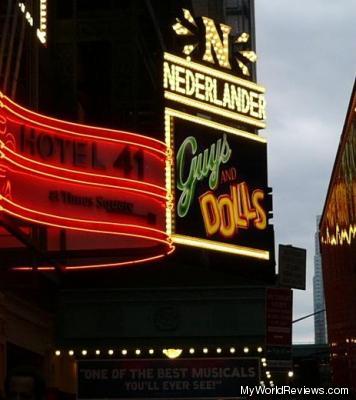 The Guys and Dolls Theatre
Guys & Dolls is a broadway musical currently playing at the Nederlander Theater in New York City. It was a "typical/traditional" broadway musical with flashy lights, costumes, singing, and dancing. I do not enjoy this type of production, and was quite disappointed with Guys & Dolls. It was a very slow show - not at all "high energy".
The music was disappointing, although the actors did a decent job singing. The story was mildly entertaining, but whenever it got interesting, the cast broke out into song. It was always irritating to have to sit through five minutes of prancing until they decided to resume the story.
There were a lot of families at the performance - perhaps this is more of a kid show. A lot of the songs are quite famous. Some members of our group enjoyed the singing and dancing.
Cost
We were able to get tickets for 30% off at the TKTS discount show tickets booth. With the discount, the tickets cost $90 each.
review contents
Cost
related reviews
More reviews in New York, NY
Been here? Want to write your own review of this live show?
linked reviews