Your Reviews About the World
MyWorldReviews.com
Let the world know what you think
Vosges Haut Chocolat
New York, New York, United States
132 Spring Street
New York, New York, United States
10012
212-625-2929
www.vosgeschocolate.com
View Map
Overall Experience:
7 / 10
Date Visited:
Sunday, August 9, 2009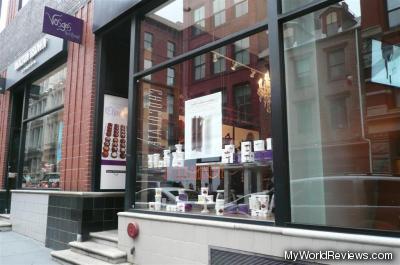 Vosges Store on Spring St.
Vosges Haut Chocolat is a unique chocolate store. They sell a variety of uniquely flavored chocolate truffles, chocolate bars, chocolate drinks, and ice creams. It is a fun experience to try some of their unique combinations like bacon chocolate, wasabi and ginger chocolate, and spicy chili chocolate.
This location in SoHo has a booth with a few stools where you can sit and enjoy something there. Place your order at the counter, take a seat, and someone will serve you.
Items Ordered
Exotic Ice Cream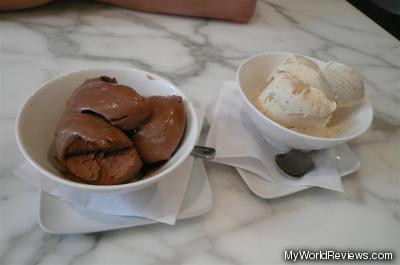 Red Fire and Wattleseed Exotic Ice Cream
Red Fire: Ancho & Chipotle chillies + Ceylon cinnamon + dark chocolate ice cream
Wattleseed: Aboriginal wattleseed + roasted macadamia nuts + creamy custard ice cream
The red fire ice cream was very unique. It was an interesting combination of hot and cold. The ice cream left your tongue feeling cold, while the chillies left your throat feeling hot. I found that the two ice cream flavors went well together with the sweet ice cream providing a relief from the spiciness. The Wattleseed was fairly normal tasting - it was like a vanilla.
review contents
Items Ordered
Exotic Ice Cream
related reviews
More reviews of this restaurant
More reviews in New York, NY
Been here? Want to write your own review of this restaurant?