Your Reviews About the World
MyWorldReviews.com
Let the world know what you think
Tahini
New York, New York, United States
23 3rd Avenue
New York, New York, United States
10003
212-254-0300
tahininyc.com
View Map
Overall Experience:
7 / 10
Date Visited:
Thursday, November 6, 2008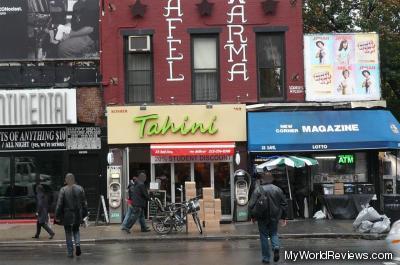 Tahini
Seating:
Indoor (small table at the back)
Tahini is a small restaurant serving middle eastern food. They have falafels and shawarma (chicken or lamb) available either in a pita or on platters. We ordered falafel pitas for lunch. Although they weren't the best falafels I've had, they were pretty good (and possibly the best in NYC). I would return here again.
There is a bar along the side of the interior, and a couple small tables at the back. There isn't much seating at the restaurant, so you may want to get your sandwich to go.
Dress
Very casual
Cost
Average - a pita falafel was $4.45. The restaurant does offer a student discount of 20% if you present a valid student card.
Service
When you enter, join the line along the counter, and somebody will take your order when they finish the orders in front of you. When your order is ready, they slide it down to the cash register (where you pay and pick it up).
Items Ordered
Falafel Pita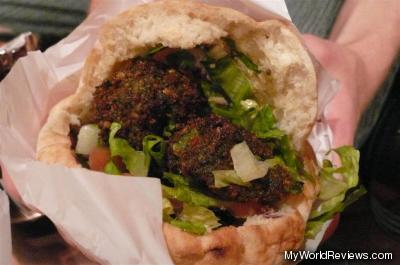 Falafel Pita
The falafel pita came with five falafels - three on the bottom, and two on top. The falafels were soft and tasty. Between the falafels, there were a number of toppings you could put in the sandwich (such as salad, tomatoes, and pickles). The falafels were an average size. The pita was full, but not stuffed. I've seen places that manage to fit 10+ falafels in the same size pita (without skimping on toppings). (such as Falafel Hatooka). In NYC though, this is one of the best stuffed pitas I've found.
review contents
Dress
Cost
Service
Items Ordered
Falafel Pita
related reviews
More reviews in New York, NY
Been here? Want to write your own review of this restaurant?
linked reviews