Your Reviews About the World
MyWorldReviews.com
Let the world know what you think
Speed The Plow
New York, New York, United States
243 West 47th Street
New York, New York, United States
10036
212-239-6200
speedtheplowonbroadway.com
View Map
Overall Experience:
5 / 10
Date Visited:
Saturday, January 17, 2009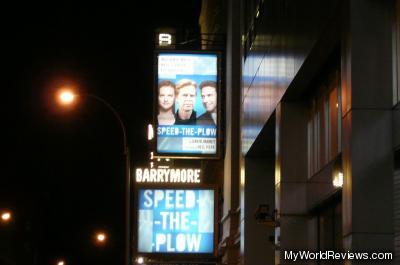 Speed the Plow
Speed The Plow is a play about a hollywood movie producer, his associate, and his secretary. The associate and secretary are each vying to have him produce a film of their choosing. The play was short, consisting of three acts, lasting almost 30 minutes each. There was no intermission. The play was enjoyable, but did not feel complete. The first act was an introduction, the second act was very boring (I have never seen so many people leave a theater!), and the third act was quite enjoyable.
Speed The Plow did not feel like a complete story - it felt like it was an interesting side story, but not worthy of a whole play by itself. The middle act was definitely far too long and boring, but perhaps the third act was so enjoyable simply because the audience had been bored mercilessly by the previous act.
Much of the dialogue in Speed The Plow is witty and fast paced. There was an abundance of profanity, but it didn't detract from the content of the play. There were a lot of good one-liners.
Cost
Tickets for Speed The Plow range in price from $50 (in the rear mezzanine) to $120 in the orchestra. We purchased half price orchestra tickets (for $60 each) from the tkts half price ticket booth.
review contents
Cost
related reviews
More reviews in New York, NY
Been here? Want to write your own review of this live show?
linked reviews