Your Reviews About the World
MyWorldReviews.com
Let the world know what you think
Snug Harbor
New York, New York, United States
Snug Harbor, 1000 Richmond Terrace
New York, New York, United States
10301
718-448-2500
www.snug-harbor.org
View Map
Overall Experience:
4 / 10
Date Visited:
Sunday, July 5, 2009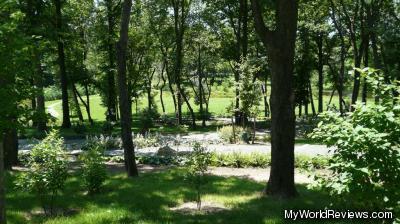 A path of trees in Snug Harbor
Snug Harbor (the Staten Island Botanical Gardens) is a small park on the north side of Staten Island, NY. It describes itself as an "unexpected and extraordinary cultural destination". In reality, it is just a park that hosts the occasional event. It probably isn't worth making the trip to Staten Island to see the gardens at Snug Harbor unless you're really interested in gardens, or if you have some burning desire to see the Chinese Scholar's Garden.
Getting There
Take the Staten Island Ferry, and then the S44 bus. It's about a 7-8 minute bus ride to Snug Harbor. You can ask the driver to announce the stop, although if you're looking out the left-hand side of the bus, it's pretty easy to see when you've arrived (there's a big park and a sign).
Chinese Scholar's Garden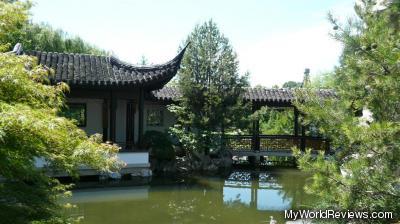 Chinese Scholar's Garden
Entrance to the Chinese Scholar's Garden has an admission charge. Entrance is through the gift shop. The cost is $5 for adults, or $4 for students/seniors. It is a small area of the park that is fenced off and developed as a Chinese garden.
It was neat to walk around the garden and through the building, but there really isn't all that much to see. It was, however, one of the nicer landscaped areas of Snug Harbor.
There are a couple of signs at the entrance to the garden that talk about some of the plants. You can remove these signs and carry then with you if you want a self guided tour, but the signs aren't really that interesting.
review contents
Getting There
Chinese Scholar's Garden
related reviews
More reviews in New York, NY
Been here? Want to write your own review of this attraction?
linked reviews