Your Reviews About the World
MyWorldReviews.com
Let the world know what you think
Shake Shack
New York, New York, United States
Madison Square Park
New York, New York, United States
212-889-6600
shakeshacknyc.com
View Map
Overall Experience:
6 / 10
Date Visited:
Saturday, August 2, 2008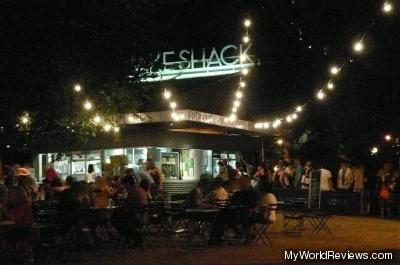 Shake Shack
Shake Shack is a popular restaurant inside Madison Square Park that serves hamburgers, hot dogs, fries, and milkshakes. They have a diner window with several tables located in the park. They have two lines - one for smaller items (like "concretes" and ice cream), and the other line for larger items (like burgers and milkshakes). There usually isn't much of a wait in the shorter line, but the longer line can have waits of 30-60 minutes.
Dress
Very casual - you just go up to the window and order.
Cost
Burgers range from around $3.50 - $7.50
Items Ordered
Shack Attack Concrete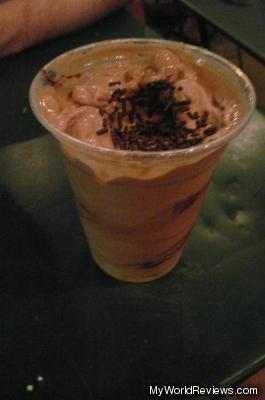 Shack Attack Concrete
Chocolate custard, hot fudge, chocolate truffle cookie dough and valrhona chocolate chunks, topped with chocolate sprinkled
Shake Shack offers a number of "concretes", which are milkshakes with things mixed into them. Customers can choose from pre-made combinations, or create their own.
The Shack Attack is a very chocolaty milk shake creation. Although it doesn't look very big, it's easily large enough for two people to share. It's a chocolate milkshake with a lot of things mixed into it. The toppings inside make it very rich and chocolaty. Between two people, we just managed to finish it. Although we both love chocolate, by the time we got to the end, we were finished.
review contents
Dress
Cost
Items Ordered
Shack Attack Concrete
related reviews
More reviews of this restaurant
More reviews in New York, NY
Been here? Want to write your own review of this restaurant?