Your Reviews About the World
MyWorldReviews.com
Let the world know what you think
Red Velvet
Washington, District of Columbia, United States
675 E St. NW
Washington, District of Columbia, United States
20004
202-347-7895
redvelvetcupcakery.com
View Map
Overall Experience:
5 / 10
Date Visited:
Saturday, March 28, 2009
Red Velvet Cupcakery
Red Velvet is a store that sells cupcakes in Washington, DC. They have very limited seating available (just a couple of bar stools facing the window). Their cupcakes are of an average size, but cost $3.25 each. This seems to be a bit on the expensive side - it's certainly more expensive than a place like Crumbs. Nevertheless, the cupcakes are pretty tasty.
We asked to order a milk to go with our cupcakes, but apparently they were all out of milk! That was a disappointment.
Dress
Very casual
Cost
Cupcakes are $3.25 each. This seems a bit overpriced.
Service
There is usually a line. While in the line, you can pick out what cupcakes you like. When you get to the front, place your order and pay.
Items Ordered
Cupcakes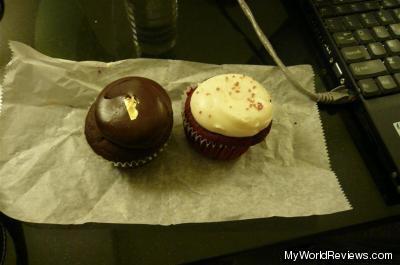 Cupcakes
Southern Belle: Red Velvet cake, whipped cream cheese frosting. Devil's food: chocolate-buttermilk cake, bittersweet chocolate ganache.
Both of the cupcakes were quite good - just what I expect from a store that specializes in cupcakes. The red velvet cupcake was soft and moist, while the ganache icing on the devil's food cupcake was thick and chocolaty.
review contents
Dress
Cost
Service
Items Ordered
Cupcakes
related reviews
More reviews in Washington, DC
Been here? Want to write your own review of this restaurant?
linked reviews