Your Reviews About the World
MyWorldReviews.com
Let the world know what you think
Pizzeria Uno Restaurant & Bar
New York, New York, United States
89 South Street Seaport
New York, New York, United States
10038
212-791-7999
unos.com
View Map
Overall Experience:
6 / 10
Date Visited:
Saturday, November 22, 2008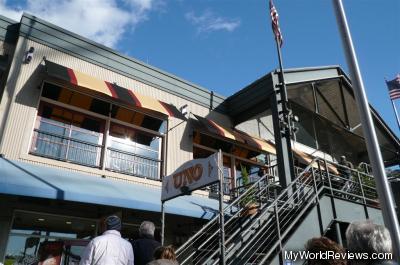 Pizzeria Uno
Seating:
Indoor dining room
Pizzeria Uno is a chain of restaurants that grew from the original Chicago Pizzeria Uno. They claim to have invented the Chicago style deep dish pizza. Their deep dish pizzas are typically quite good.
This location is in the South Street Seaport pedestrian pier in New York City. It is a fairly large location - there is lots of seating available.
Dress
Very casual
Cost
Pretty average. A deep dish pizza for 2-3 people is around $18-$20.
Service
Quite typical
Reservations
We visited around noon on a Saturday, and the restaurant was mostly empty.
Items Ordered
Broccoli and Cheddar Soup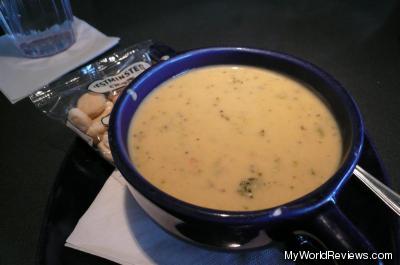 Broccoli & Cheddar Soup
Our sumptuous cheese and broccoli concoction (410 calories)
The broccoli and cheddar soup was just a cheese cream soup with a couple chunks of broccoli in it. It was ok, but nothing special.
Chef's Choice Deep Dish Pizza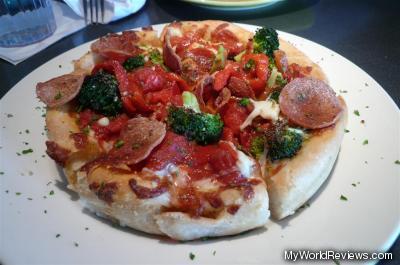 Chef's Choice Deep Dish Pizza
Here you get a chance to create your own deep dish. Pick three fillters to add to our basic chunky tomato and mozzarella deep dish. When you're in the drivers seat, life is fine. (Calories: 1800-2520)
Cost:
$9.99 for an individual size
We chose to order our deep dish pizza with pepperoni, broccoli, and red peppers. The pepperoni was a bit funny - it was quite dry. I don't know if it just hadn't baked into the pizza properly, but I thought that was a bit strange.
Although it's an individual pizza, the deep dish pizzas are pretty thick. We didn't have a problem sharing the individual size between two people. We shared the above soup, and just barely managed to finish the individual pizza.
From what I remember, the larger size pizzas are even thicker than the individual sizes. It's more like a pizza lasagna than a typical pizza. The size is deceiving - they are filling! Although the individual pizza was very similar to their other sizes, it was a little bit different. I prefer the typical deep dish pizza where they serve it to you still hot in the pan.
review contents
Dress
Cost
Service
Reservations
Items Ordered
Broccoli and Cheddar Soup
Chef's Choice Deep Dish Pizza
related reviews
More reviews in New York, NY
Been here? Want to write your own review of this restaurant?
linked reviews