Your Reviews About the World
MyWorldReviews.com
Let the world know what you think
P.S. 260
New York, New York, United States
260 5th Ave
New York, New York, United States
View Map
Overall Experience:
6 / 10
Date Visited:
Saturday, October 4, 2008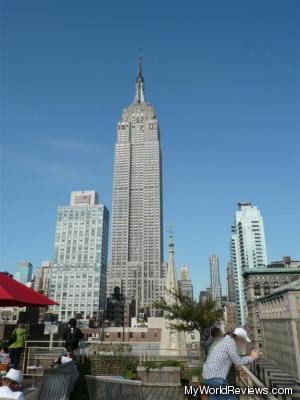 The rooftop patio with a view of the Empire State Building
P.S. 260 is actually a film editing studio. They opened their doors to the public for Open House NY. The studio is located in the penthouse of a building on fifth avenue that offers a spectacular view of the Empire State Building. They also opened access to their rooftop patio from which you can also see the Flatiron building.
There wasn't much to do here except to see a very nice studio with amazing views. The view is really unique, and the rooftop patio was very nice. Several people were just lounging around in the rooftop garden enjoying the beautiful weather during the open house.
Estimated Visiting Time
We spent about 10 minutes inside the penthouse, and about 15 minutes on the roof admiring the view.
review contents
Estimated Visiting Time
related reviews
More reviews in New York, NY
Been here? Want to write your own review of this attraction?
linked reviews