Your Reviews About the World
MyWorldReviews.com
Let the world know what you think
Ollie's Noodle Shop & Grille
New York, New York, United States
1991 Broadway
New York, New York, United States
10023
212-595-8181
View Map
Overall Experience:
7 / 10
Date Visited:
Thursday, September 4, 2008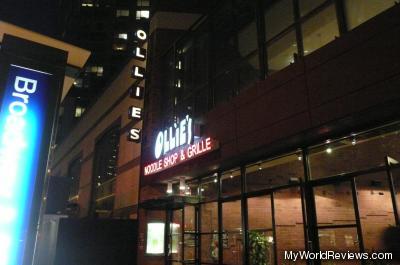 Ollie's Noodle Shop & Grille
Seating:
Indoor (upper level)
Ollie's is an Asian-style restaurant located on Broadway near the corner of 68th street. They offer average quality food at reasonable prices. Their restaurant is nicely decorated, and is quite large - seating is available on two levels. There is also a "take-out" area at the entrance, with some seats available if you want to order take out food and eat it in.
Everything here is quite salty, but otherwise it tastes pretty good. Many of the dishes are fairly large. We were a group of four people, and three dishes probably would have been sufficient for us to share.
Dress
Very casual
Cost
Prices are very reasonable here for the quality of food you receive, especially compared to the rest of Manhattan.
Service
Service is pretty good. Our table received water and tea immediately after we were seated. We never found ourselves waiting for our waitress, and our food was brought out fairly quickly.
Items Ordered
Chicken with broccoli in garlic sauce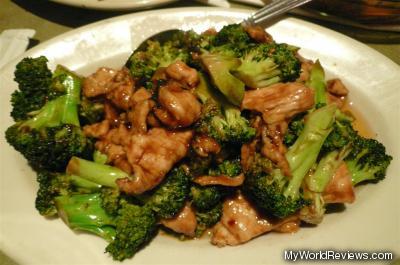 Chicken with Broccoli
I thought this was an excellent chicken & broccoli dish. Although it had a spicy star on the menu, it wasn't really that spicy. It had a lot of chicken and broccoli, and was served with rice on the side (your choice of white or brown).
The sauce tasted like a fairly simple soy sauce, although some members of the group didn't think it was the greatest.
Pan-fried noodle with vegetable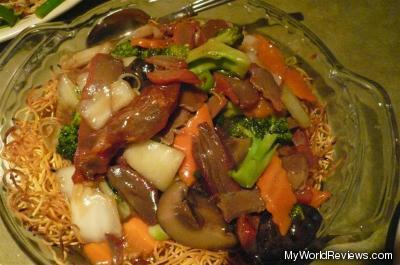 Pan-fried noodle with pork
Pan-fried noodle with vegetable (choice of roast pork, chicken, or shrimp)
This dish had baked thin noodles on the bottom. The sauce from the vegetables and pork kept them moist in the middle, but the noodles around the edges were hard and crispy.
The pork itself was quite tasty, and the dish was served with an ample amount of vegetable. I didn't think that the hard crispy noodles were the greatest - it was an odd texture, and was probably the least favorite dish we ordered (even though the pork was quite good).
Singapore Mai Fun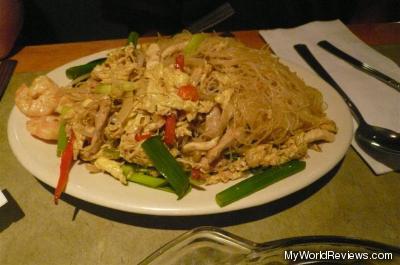 Singapore Mai Fun
Singapore Mai Fun (Curry Flavor) with pork, chicken, shrimp, & egg
This dish had soft, thin noodles with pieces of meat and some vegetables mixed in. This dish was also marked with a spicy star, and although it had more spice than the chicken and broccoli, it wasn't uncomfortably hot.
The dish did have a slight curry flavor, but it didn't seem to be quite right. The shrimp also had a very fishy taste, which I didn't enjoy.
Beef with mixed vegetable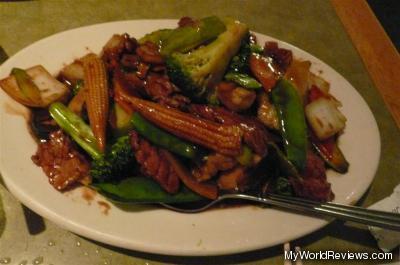 Beef with mixed vegetable
This dish had a good selection of vegetables. The beef was pretty high quality, and quite tasty. Unfortunately, the sauce was strange. It had a bit of a sour flavor that no one really enjoyed. This dish was served with a small bowl of rice (white or brown).
review contents
Dress
Cost
Service
Items Ordered
Chicken with broccoli in garlic sauce
Pan-fried noodle with vegetable
Singapore Mai Fun
Beef with mixed vegetable
related reviews
More reviews of this restaurant
More reviews in New York, NY
Been here? Want to write your own review of this restaurant?