Your Reviews About the World
MyWorldReviews.com
Let the world know what you think
Mondo Gelato
Honolulu, Hawaii, United States
#L130 - 226 Lewers Street.
Honolulu, Hawaii, United States
96816
mondogelato.com
View Map
Overall Experience:
5 / 10
Date Visited:
Thursday, May 22, 2008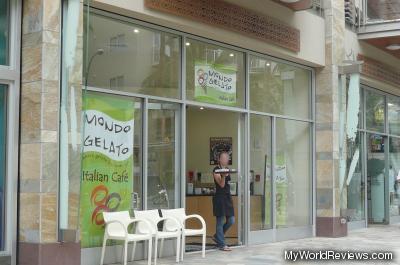 Mondo Gelato is a gelato store located on Lewers Avenue, in a shopping plaza that is connected to The Embassy Suites. Earlier in the day, they were handing out samples of smoothies, and we had a coupon, so we decided to come back later in the day for Gelato. The coupon was worded strangely. We thought it would give us an extra scoop, but apparently it only allowed us to get different flavors of gelato in the same cup. The Piccolo size usually has two scoops of one flavor, but with our coupon, we got to choose two flavors.
There is a bit of outdoor seating available on Lewers Street. Overall, I wasn't that impressed with Mondo Gelato. Yes, they had gelato, but it was pretty typical for gelato (pretty good), and it was overpriced.
Cost
Mondo Gelato is fairly expensive - their gelato ranges from $4 for a small to $8 for alarge.
Items Ordered
Piccolo (Small) Gelato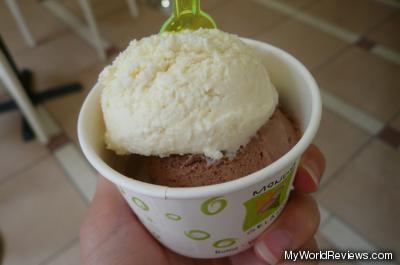 Small Gelato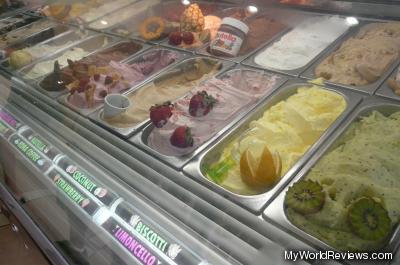 Gelato Selection
As mentioned above, the small usually comes with two scoops of the same flavor, but we were able to get two different flavors with a coupon that we found in a coupon book. We tried Ferrero Rocher and White Chocolate Macadamia Nut. The scoops were both pretty small, but tasty. These flavors were a good choice for nut flavors.
review contents
Cost
Items Ordered
Piccolo (Small) Gelato
related reviews
More reviews in Honolulu, HI
Been here? Want to write your own review of this restaurant?
linked reviews
Embassy Suites Waikiki Beach Walk