Your Reviews About the World
MyWorldReviews.com
Let the world know what you think
Embassy Suites Waikiki Beach Walk
Honolulu, Hawaii, United States
201 Beachwalk Street
Honolulu, Hawaii, United States
96815
1-800-EMBASSY
www.embassysuiteswaikiki.com
View Map
Overall Experience:
8 / 10
Check-In Date:
Tuesday, May 20, 2008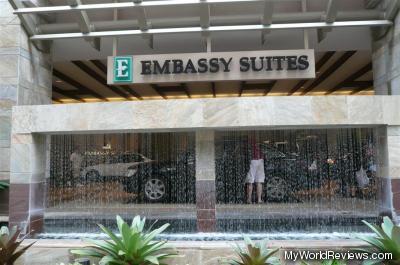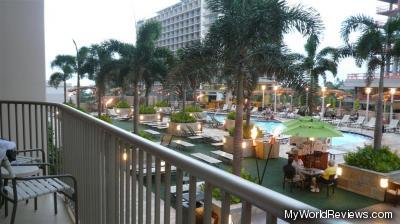 View from our Balcony of the Outdoor Pool and Patio
Embassy Suites is a chain of hotels around the US. The hotel offers larger suite-style rooms and joining rooms to accommodate larger groups. This location is located in Waikiki Beach, just a short walk to the beach. Some rooms in the hotel have an ocean view if you are higher up. The hotel has a two-level outdoor mall beside it with some interesting stores and restaurants. It is also a very short walk to the main tourist street in Waikiki beach.
Renting a room gives you free access to the outdoor hotel pool, hot tub and patio on the fourth floor, free buffet breakfast, free drinks and snacks from 5:30-7:30 every day, and free internet access in your room.
The pool area provided free beach towels that you could use at the pool or take with you to the beach. They also rented out floating devices, and boogie boards, although we later discovered it was almost cheaper to purchase a boogie board from an ABC store than to rent one for a day.
Breakfast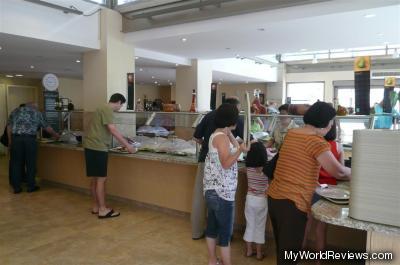 Breakfast Buffet
As with all Embassy Suites hotels, the included breakfast is quite extensive. The hot foods offered included bacon, pancakes, french toast, home fries, scrambled eggs, made to order eggs and omelettes, as well as rice and soup. There was a selection of breads and bagels for toasting. For cold food there was a variety of fresh fruit, yogurt, cereal, and baked dessert goods. The food was pretty good quality and tasted good. The food didn't change from day to day, but with such a large selection we didn't get bored of it too quickly.
Evening Happy Hour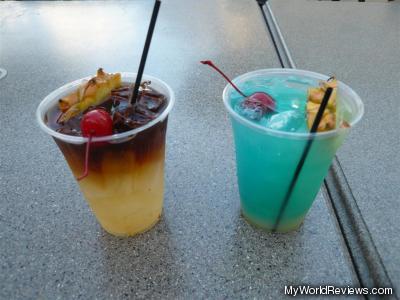 Free Drinks
Every evening from 5:30-7:30 a stage was set up by the pool where musicians sang and played the ukulele or guitar, and a hula dancer performed some dances. The entertainment could be enjoyed will sipping a free alcoholic beverage and munching on free snacks. There was a menu of beverages available offering a few tropical fruity drinks, beers, wine, and liqueurs. The snacks available varied each night, although there was usually nachos and salsa or some other snack like potato chips, gold fish, or pretzels. There was always one hot item - we had warm chili, fried breaded zucchini, and meatballs. Between free breakfast and all the evening snacks we saved a lot of money on food by staying here.
The Room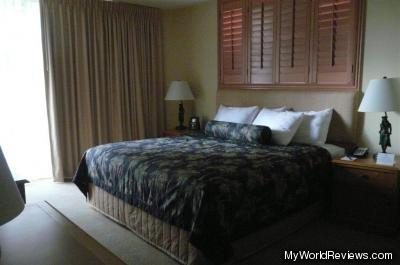 King Bedroom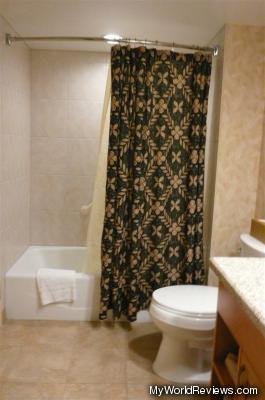 The Bathroom
We had a connecting room. One room had a king bed in one room, a two door bathroom, a small kitchen area, and a living room with a pull out queen bed. The second room had two queen beds and a bathroom. Every room had its own flat screen TV. Each room also had a fridge, a microwave, and a safe.
The rooms were nicely furnished and quite clean. They were very spacious and had all the typical furnishings for a hotel room. Each room also had sliding doors that opened to a balcony overlooking the pool area. We did find that it was a bit noisy in the mornings. While we were there, there was some construction going on that woke us up every morning. On some mornings there was also music being played at breakfast that also woke us up.
Cost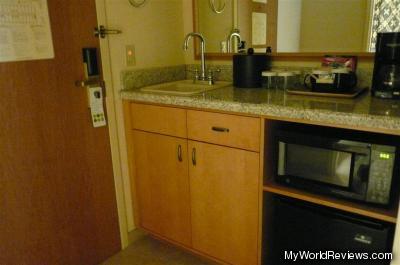 The Kitchenette
Room rates vary, but are around $300-$500 per night depending on the size and view.
review contents
Breakfast
Evening Happy Hour
The Room
Cost
related reviews
More reviews in Honolulu, HI
Been here? Want to write your own review of this hotel?