Your Reviews About the World
MyWorldReviews.com
Let the world know what you think
Market Table
New York, New York, United States
54 Carmine Street
New York, New York, United States
10014
212-255-2100
markettablenyc.com
View Map
Overall Experience:
7 / 10
Date Visited:
Friday, October 28, 2011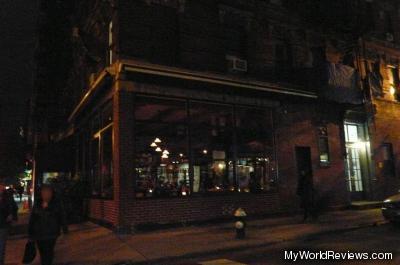 Market Table
Market Table is a restaurant in Greenwich Village, NYC. It's part of the same family as The Little Owl, and is similar in feel, food quality, and annoyances. Just like at the little owl, the food was too salty and there were no bread plates. Still, I loved the atmosphere at Market Table. The restaurant is very cute with nice wooden tables, huge windows looking out into the Village, and creative and tasty food.
Dress
Market Table is a slightly upscale place - smart casual dress is appropriate.
Cost
Slightly above average - the average cost of an entree is around $30.
Reservations
Reservations are probably a good idea. We arrived just before 7p on a Friday. Most of the tables were empty, but reserved. The only space they had available for walk-ins was at the bar.
Items Ordered
Autumn Vegetable Soup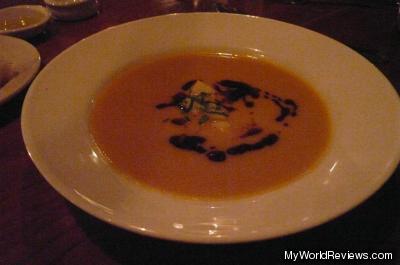 Autumn Vegetable Soup
hazelnut brown butter, pickled apples
The autumn vegetable soup was a thick cream of squash soup. It was quite heavy, but also quite good. The pickled apples tasted like they had been pickled in an apple cider vinegar. They didn't have the same vinegary taste that you'd expect from a pickled cucumber (for example), and they went very nicely in the squash soup.
Sauteed Skate Wing
Sauteed Skate Wing
haricots verts, lentils, cucumber, mint creme fraiche, chili
The skate wing was nicely battered, fried, and served on a bed of green beans and lentils. The sauce on the plate tasted like it was a cucumber yogurt sauce. I didn't really like it, but I don't like cucumber yogurt sauces in general. The skate was lightly spiced, which was nice, although it still somehow managed to taste bland.
Pan Roasted Chicken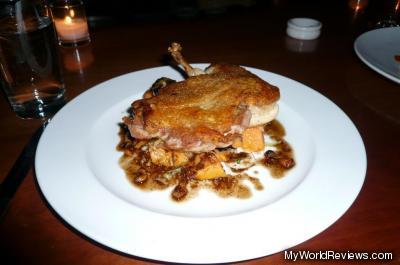 Pan Roasted Chicken
sweet potato salad, bok choy, hazelnuts
The chicken had some breast meat and some dark meat that was pounded flat and then pan fried. It had a nice crispy exterior. The big winner of this dish was the sauce. The chicken was served with a rich, flavorful gravy that went very well with the chicken and the roasted squash it was served with. This was my favorite item from the restaurant.
review contents
Dress
Cost
Reservations
Items Ordered
Autumn Vegetable Soup
Sauteed Skate Wing
Pan Roasted Chicken
related reviews
More reviews in New York, NY
Been here? Want to write your own review of this restaurant?
linked reviews