Your Reviews About the World
MyWorldReviews.com
Let the world know what you think
Mado Cafe
Istanbul, Istanbul, Turkey
Overall Experience:
6 / 10
Date Visited:
Tuesday, March 4, 2008
Mado Cafe is a chain of cafes in Istanbul, Turkey. This location was on Istiklal Avenue, a pedestrian street. Mado serves ice cream, cakes, and some other small food items. There was someone in the store that spoke English, so that made it easy to order.
Dress
Casual dress is fine.
Cost
I was surprised that the tiramisu cake cost 7 YTL - that seems like a lot. A bottle of water was 1.50 YTL (which was quite reasonable).
Items Ordered
Tiramisu Cake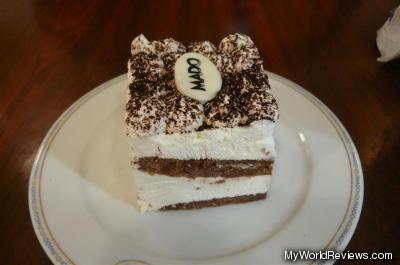 Tiramisu Cake
This tiramisu cake costs 7 YTL, which was quite a lot, considering what it was. I'm not sure if that's the actual cost, or that's just what the person at the store decided to charge us, because it does seem overpriced. The cake was quite good though, so I wasn't too upset. It was very creamy, with a hint of cheese flavor. It wasn't really like a tiramisu - it was more like a creamy cheesecake.
review contents
Dress
Cost
Items Ordered
Tiramisu Cake
related reviews
More reviews in Istanbul, Istanbul
Been here? Want to write your own review of this restaurant?
linked reviews