Your Reviews About the World
MyWorldReviews.com
Let the world know what you think
Istiklal Avenue
Istanbul, Istanbul, Turkey
Istiklal Avenue
Istanbul, Istanbul, Turkey
View Map
Overall Experience:
7 / 10
Date Visited:
Sunday, March 2, 2008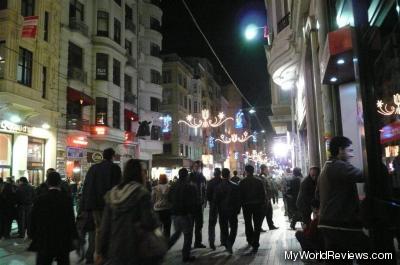 Ä°stiklal Avenue is a fairly long (3km) pedestrian street in Istanbul, Turkey. It's full of lots of different types of stores and restaurants. It starts at Taksim Square, and goes until near Galata Tower. You can probably buy anything you need to buy here - the street is full of a wide variety of stores. There were also some street vendors selling roasted chestnuts and corn on the cob.
There are also lots of restaurants and cafes located along this street, and off side streets. Everyone was smoking inside all the restaurants, but some of the restaurants on side streets had outdoor seating. There was no outdoor seating directly on Ä°stiklal Avenue.
In the morning and during the day, the street isn't quite as busy with pedestrians. There were actually a few cars driving during the day. During the evening, I couldn't believe how many people there were on this street! This must be where the entire population of Istanbul spends their evenings. There was the odd car trying to drive on the street (and the odd police car), but they had to go very slowly because there were tons of people out and about.
With all the people out and about, this street felt very safe and "touristy" (even though most of the people there were probably locals).
related reviews
More reviews in Istanbul, Istanbul
Been here? Want to write your own review of this attraction?
linked reviews