Your Reviews About the World
MyWorldReviews.com
Let the world know what you think
Lombardi's Pizza
New York, New York, United States
32 Spring St
New York, New York, United States
10012-4173
212-941-7994
firstpizza.com
View Map
Overall Experience:
6 / 10
Date Visited:
Saturday, September 6, 2008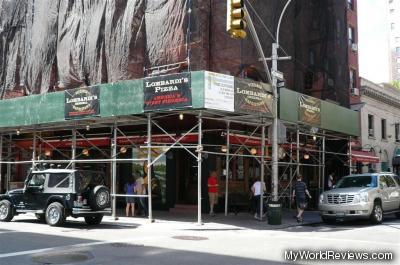 Lombardi's Pizza
Seating:
Indoor dining room
We finally made it here! After visiting twice previously and leaving with a 1 hour wait, we got here on a rainy day when there was no line at all.
Lombardi's is an Italian restaurant located just outside of Little Italy in Manhattan, NYC. They are the first restaurant in the United States to serve pizza, so they've been around for a long time! They are very proud of their pizza oven, and even let guests take pictures in front of it.
I found the quality of their pizza quite typical. It really wasn't any better than what's available in the surrounding area. Nevertheless, it is very good pizza.
Dress
Very casual
Cost
A bit on the expensive side for pizza. A small six-slice pizza is $15.50, plus $3 for a single topping, $5 for two toppings, and $1 for each topping over that.
Service
There is usually a wait at this restaurant, especially on the weekends. If you go for an early lunch (11:30am should be fine), you can usually beat the line. The table service was pretty standard.
Items Ordered
Pizza with pepperoni, roasted red peppers, and meatballs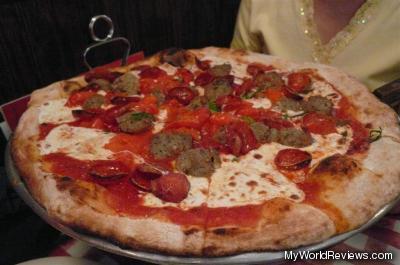 Pizza with pepperoni, roasted red peppers, and meatballs
We ordered this 6-slice pizza with roasted red peppers, pepperoni, and sausage. I usually don't like meat pizzas, but our waitress informed us that their meatballs were one of their best toppings.
Although I'm glad I tried the meatballs, I probably wouldn't order them again. They were a mix of beef and pork, and while they were tasty, they weren't the best pizza topping in my opinion. (Like I said, I usually don't order "meat lover" pizzas). The pepperoni was excellent, and had a very nice spice to it. The roasted red peppers were average.
Margarita Pizza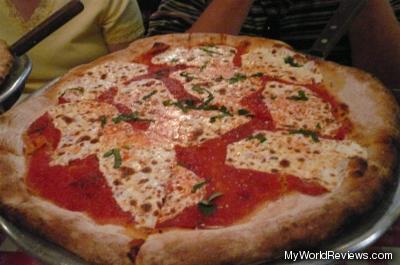 Margarita Pizza
The margarita pizza was a typical margarita pizza. It had some cheese and a couple small pieces of basil. The pizza definitely would have been better with more basil. The crust was fairly large on the pizza - the crust was thin and bread-like.
review contents
Dress
Cost
Service
Items Ordered
Pizza with pepperoni, roasted red peppers, and meatballs
Margarita Pizza
related reviews
More reviews in New York, NY
Been here? Want to write your own review of this restaurant?
linked reviews