Your Reviews About the World
MyWorldReviews.com
Let the world know what you think
Le Grainne Cafe
New York, New York, United States
183 9th Avenue
New York, New York, United States
10011-4906
646-486-3000
legrainnecafe.com
View Map
Overall Experience:
7 / 10
Date Visited:
Sunday, June 26, 2011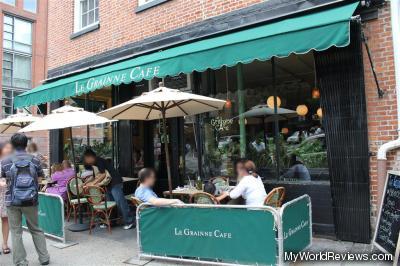 Le Grainne Cafe
Le Grainne Cafe is a small french cafe located at the corner of 9th Ave. and 21st Street. They have a full menu and outdoor seating in the summer.
The food at brunch was all pretty good, and the prices were amazing! Le Grainne Cafe offers some of the best value I've seen in Manhattan.
Dress
Brunch was pretty casual (as it usually is). Shorts and a t-shirt were just fine.
Cost
Breakfast items were approx. $8-$14.
Reservations
They don't take reservations, but we only had to wait around 20 mins. for our group of five when we visited at 1pm on a Sunday.
Items Ordered
L'Omelette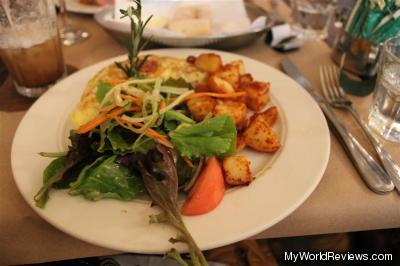 L'Omelette
Choice of three ingredients, served with home fries and a mesclun salad (swiss cheese, ham, chicken, turkey, sweet or spicy sausage, ratatouille, mushrooms, tomatoes, leeks, jalapeño peppers, roasted peppers, sauteed onions, or bacon)
I ordered the omelette with peppers, onions, and bacon. It was a pretty typical omelette. The salad had a light vinaigrette dressing on it but was otherwise fairly plain tasting. The potatoes were nicely baked and very soft, but also very salty.
French Toast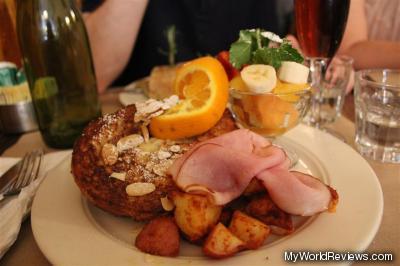 French Toast
Served with home fries, grilled ham and fruit salad
I heard the french toast was one of the best items on the menu, so I was excited to try it. It was indeed fairly good, but not nearly as good as the french toast at Jane. The french toast came with some ham (that was pretty good and served hot), a small fruit salad, and the same salty potatoes as above. I thought the ham was a bit odd to include with the french toast, so I ate it with the potatoes and not the french toast.
review contents
Dress
Cost
Reservations
Items Ordered
L'Omelette
French Toast
related reviews
More reviews in New York, NY
Been here? Want to write your own review of this restaurant?
linked reviews