Your Reviews About the World
MyWorldReviews.com
Let the world know what you think
La Bella Ferrara
New York, New York, United States
108 Mulberry Street
New York, New York, United States
10013
212-966-7867
littleitalynyc.com/labellaferrara/
View Map
Overall Experience:
6 / 10
Date Visited:
Saturday, September 27, 2008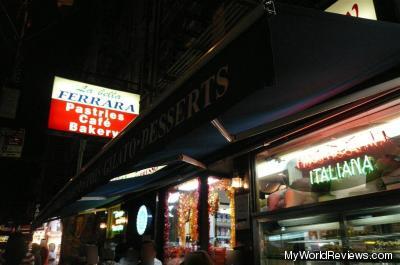 La Bella Ferrara
La Bella Ferrara is an Italian bakery that sells a collection of cakes, cookies, pastries, and cannoli. They are located in Little Italy between Canal and Hester.
Dress
Very casual
Cost
Fairly affordable
Service
There is often a line in here. Wait your turn, then tell the person at the counter what you would like, and pay. They accept cash and credit cards.
I found the lady that was helping me a bit confusing. I couldn't figure out why she wouldn't get me a piece of Tiramisu when I was pointing right at it. She didn't do a good job explaining that it was actually a Tiramisu-flavored cheesecake, and that they didn't have any tiramisu available.
Items Ordered
Cheesecake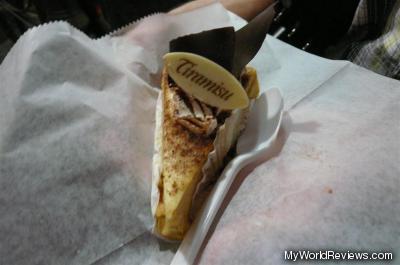 Tiramisu Cheesecake
This piece of cheesecake was flavored like Tiramisu. It had a "Tiramisu" chocolate on it, which I found confusing (since I thought it was tiramisu).
Although I didn't know what it was when I ordered it, it was still pretty tasty. The cheesecake was nice and thick with a hint of a coffee flavor.
Small Chocolate Cannoli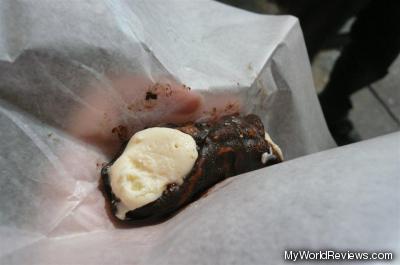 Cannoli
La Bella Ferrara has delicious cannoli. The inside is a very sweet cheese (or is it just a thick whipped cream?). The cannoli is also sweet, delicious, and covered in chocolate. La Bella Ferrara also has larger cannoli, and plain ones that aren't covered in chocolate.
review contents
Dress
Cost
Service
Items Ordered
Cheesecake
Small Chocolate Cannoli
related reviews
More reviews in New York, NY
Been here? Want to write your own review of this restaurant?
linked reviews