Your Reviews About the World
MyWorldReviews.com
Let the world know what you think
Galata Tower
Istanbul, Istanbul, Turkey
Overall Experience:
6 / 10
Date Visited:
Tuesday, March 4, 2008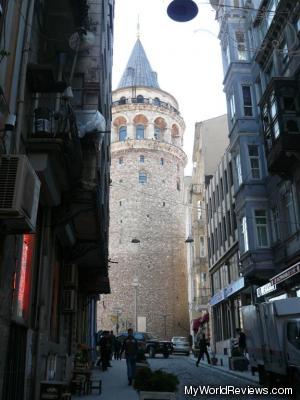 Galata Tower is a large tower that's shaped like a cylinder in Istanbul, Turkey. It's quite a recognizable landmark in the city. Although the tower itself isn't that tall, it's situated on a hill, which makes it a difficult climb from the old area of Istanbul.
After paying your admission fee, visitors take an elevator up 7 stories. To get to the observation level, visitors must walk up an additional two stories on a spiral staircase. The upper levels house a restaurant and Turkish nightclub.
The observation balcony on the Galata Tower is quite narrow all the way around, and doesn't feel very safe. There are some small fences, but they're definitely not up to American safety standards.
The tower does provide an excellent view of Istanbul. You can see the Golden Horn, the Bosphorus, and many, many mosques. If you go up the tower just as the sun begins to set, you can see the city in both daylight and dark.
Cost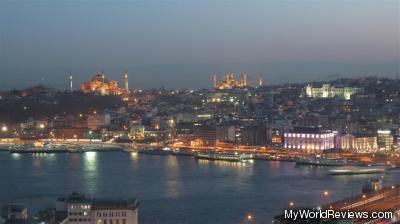 A view of Old Istanbul from the Galata Tower
Each visitor must pay 10 YTL to go up the tower.
Estimated Visiting Time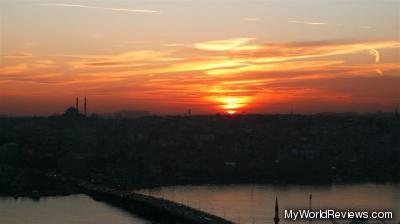 Sunset from the Galata Tower
Expect to spend 15-30 minutes on the observation balcony of the tower. If you want to eat at the restaurant, allow more time.
review contents
Cost
Estimated Visiting Time
related reviews
More reviews in Istanbul, Istanbul
Been here? Want to write your own review of this attraction?