Your Reviews About the World
MyWorldReviews.com
Let the world know what you think
Inoteca
New York, New York, United States
323 Third Ave
New York, New York, United States
10010
212-683-3035
www.inotecanyc.com
View Map
Overall Experience:
7 / 10
Date Visited:
Saturday, March 19, 2011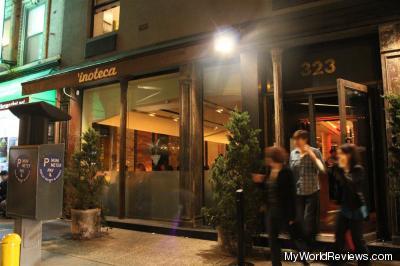 Inoteca on 3rd Ave & 24th St
Inoteca is an Italian restaurant with a few locations in NYC. This location is on 3rd Ave at 24th St. The restaurant has a nice modern look and a few tables outside during nice weather. The bar area is separate from the dining room making it a bit quieter.
Much of the menu consists of small plates that are good for sharing tapas style. The dishes listed in this review were shared between four people, and it was enough food for our group.
The menu is mostly in Italian, making it difficult to read. A glossary of translations is provided, but doesn't translate everything. The food was all very good, and some of the dishes were a bit more creative than traditional Italian food.
Dress
Smart casual.
Cost
Dishes range from $10-$20.
Service
Our waitress was helpful in providing additional translations on the menu, and providing information on the portion sizes of the dishes.
Reservations
We were able to get a table without a reservation and without waiting around 7pm on a Saturday evening, but the restaurant was pretty close to full the entire evening.
Items Ordered
Beet Insalate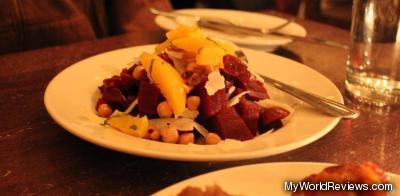 Beet Insalate
beets, orange, pecorino, mint & hazelnuts
The beet salad was a nice combination with the cheese and hazelnuts. It had a nice fresh citrus dressing. I think the beets were boiled instead of roasted, which is not my preference.
Bruschette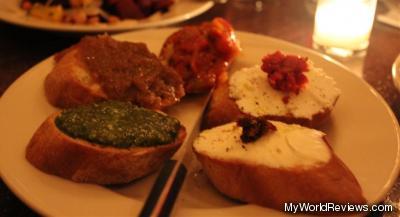 Bruschette
There was a large variety of Bruschette to choose from. The picture includes pesto, ricotta, fig mascarpone, and others. They were all very different and a nice little appetizer.
Gamberetti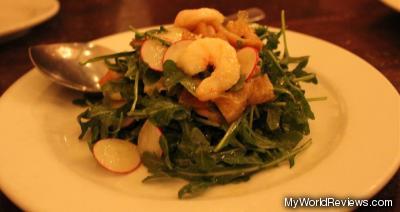 Gamberetti
This salad was the special for the day. It was mostly arugula, topped with sliced radishes, shrimps, and croutons. It also had a nice light and fresh tasting dressing.
Pollo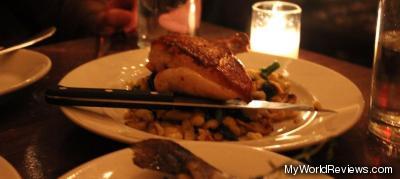 Pollo con spatzle e rapini
con spatzle e rapini
This roasted chicken was sitting on a bed of spatzle and greens. Spatzel is a small pasta noodle that's fried and crispy. The chicken was moist and lightly flavored, but went well with the pasta.
Trout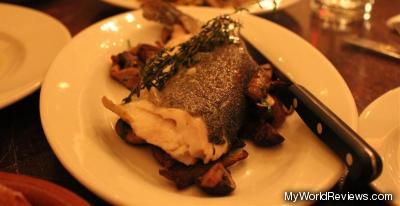 Trout
The trout was the special entree for the day. It was one of the best dishes we had here. The fish was mild and flaky. It came with some excellent tasting mushrooms.
Lasagnette
Lasagnette
lasagnette di melanzane
The eggplant lasagna was a small slice of lasagna that was a good size for sharing between 4 people as a side dish. It was pretty good lasagna, but nothing special.
Taccozette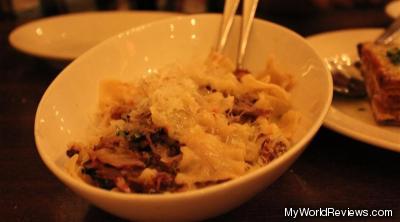 Taccozette
con ragu di anatra
This was a pasta dish of large noodles with a duck ragu and covered in cheese. The duck ragu had a delicious flavor.
review contents
Dress
Cost
Service
Reservations
Items Ordered
Beet Insalate
Bruschette
Gamberetti
Pollo
Trout
Lasagnette
Taccozette
related reviews
More reviews of this restaurant
More reviews in New York, NY
Been here? Want to write your own review of this restaurant?