Your Reviews About the World
MyWorldReviews.com
Let the world know what you think
Inoteca
New York, New York, United States
323 Third Ave
New York, New York, United States
10010
212-683-3035
www.inotecanyc.com
View Map
Overall Experience:
6 / 10
Date Visited:
Saturday, September 26, 2009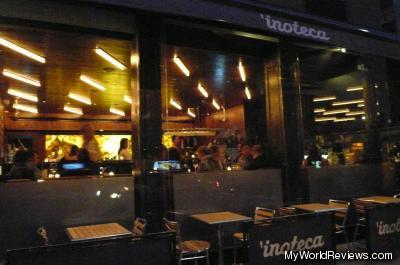 Inoteca on Third Ave
Seating:
Indoor dining room
Inoteca is a slightly upscale Italian restaurant and wine bar. They have three locations in Manhattan. This location on 3rd Ave. and 24th St. has a dark but expensive looking interior decor. The walls appeared to be made from large slabs of different types of stone.
The menu is a bit difficult to figure out. There are a lot of Italian words on the menu that we didn't know. We had to ask the waiter many questions, but he was very helpful. It appeared to be tapas style, with smaller dishes, so we ordered to share. We ended up ordering two appetizers and two entrees for 3 people. It normally would not have been enough, but we weren't very hungry that evening. Each main dish was only slightly smaller than a usual main course plate. The food was all pretty good, but was too salty for my liking.
Dress
Smart casual - jeans and a nice shirt are fine. Some people were dressed up a bit in dress shirts and dresses.
Cost
Most dishes are $10-$20, but are a bit smaller than usual.
Service
We had several questions for our waiter regarding the menu, and he was very helpful in answering them.
Reservations
We tried calling ahead for reservations, but they had no more available for that evening. However, when we walked in, most of the tables were empty. It filled up a bit later, but there was never a long wait.
Items Ordered
Baby rucola, pickled red onions, pecorino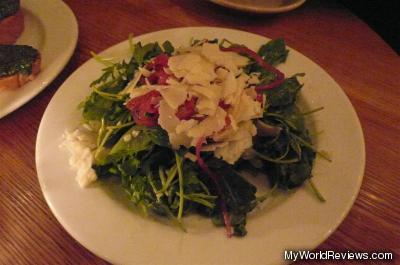 Baby rucola, pickled red onions, pecorino
This was a pretty good salad. The combination of the cheese and the pickled red onions gave the salad a lot of flavor. It was a decent size.
Pesto bruschette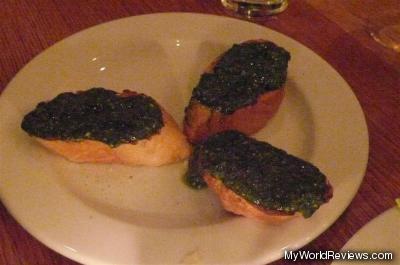 Pesto bruschette
I was disappointed in how small the bread pieces were. They were loaded with pesto - too much in my opinion. It was a pretty good pesto, but it was nothing special for more than $2 a piece.
Spiedini chicken cacatory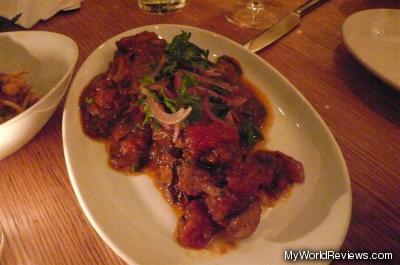 Spiedini chicken cacatory
The Chicken Cacciatore was delicious. It had a nice sauce. The chicken was moist and flavorful. It was quite salty though.
Tonnarelli with lamb and chickpeas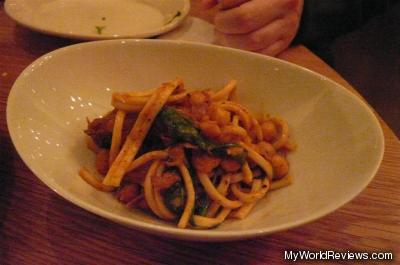 Tonnarelli with lamb and chickpeas
This dish was also very good. The sauce was well spiced and flavorful, although also quite salty. It was made with a thick noodle, and lots of chickpeas. The lamb was thin strips of very tender meat.
review contents
Dress
Cost
Service
Reservations
Items Ordered
Baby rucola, pickled red onions, pecorino
Pesto bruschette
Spiedini chicken cacatory
Tonnarelli with lamb and chickpeas
related reviews
More reviews of this restaurant
More reviews in New York, NY
Been here? Want to write your own review of this restaurant?