Your Reviews About the World
MyWorldReviews.com
Let the world know what you think
Il Piccolo Bufalo
New York, New York, United States
141 Mulberry St.
New York, New York, United States
10013
212-219-9069
View Map
Overall Experience:
6 / 10
Date Visited:
Sunday, August 10, 2008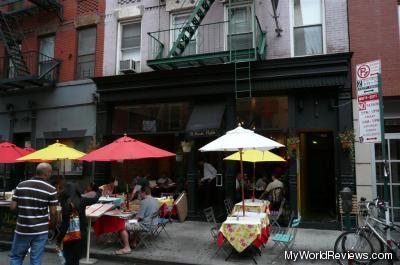 Il Piccolo Bufalo is an Italian restaurant located in the heart of Little Italy in Manhattan. They serve brick oven pizza, baked calzones, pasta, and salads. They have outdoor seating on the sidewalk or, in the summer, indoor seating with their wall of windows open. They have a very casual cafe atmosphere.
Service
The restaurant was fairly busy, and we didn't feel like we were being well attended to - our bread arrived at the same time as our appetizer, and they forgot about our pizza, so it didn't arrive until about 30 minutes later.
The food was actually quite good (7/10), but because of the service, we lowered the rating to 6/10.
Cost
Prices are a bit high, but that's typical of restaurants in this area - pizzas were $9-$15 for a small or $18-$29 for a large.
Dress
Very Casual - shorts and a t-shirt are fine.
Items Ordered
Bread and Oil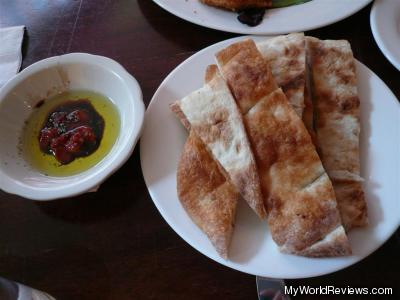 Bread
The bread strips were served with a dish of oil, vinegar and tomato paste. The bread was quite thin - it was like strips of a pita. The oil dish tasted as good as it looked. It was nice to have something different to dip your bread into. The tomato paste was quite sweet, but went well with the oil.
Fried Ravioli
Fried Ravioli
We'd never tried fried ravioli before, but this sounded like a really good appetizer. It was just as good as we expected. The ravioli was made with really good ricotta cheese. It was covered in a light breading and fried - delicious! There were four pieces served with a marinara sauce that was good for dipping. The breading was deliciously seasoned.
Pizza Margherita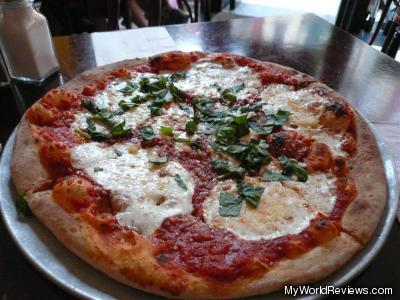 Margherita Pizza
crushed fresh tomato sauce, fresh mozzarella, a dusting of Parmesan, garnished with fresh basil and drizzled with extra virgin olive oil.
Cost:
$10.95 for small (12" pie, 4 slices)
The pizza was pretty good when it finally arrived. There was a good amount of fresh basil. The crust was thin and baked just right. I didn't noticed the drizzled olive oil. I also thought the sauce was a bit too sweet, but otherwise it was an excellent Italian pizza.
review contents
Service
Cost
Dress
Items Ordered
Bread and Oil
Fried Ravioli
Pizza Margherita
related reviews
More reviews in New York, NY
Been here? Want to write your own review of this restaurant?
linked reviews