Your Reviews About the World
MyWorldReviews.com
Let the world know what you think
Hanauma Bay
Honolulu, Hawaii, United States
Hanauma Bay
Honolulu, Hawaii, United States
www.co.honolulu.hi.us/parks/facility/hanaumabay/welcome.htm
View Map
Overall Experience:
2 / 10
Date Visited:
Thursday, May 22, 2008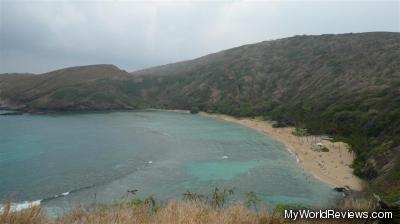 Hanauma Bay
What a disappointment! We had heard that Hanauma Bay was a great place to go for snorkeling on Oahu, but our experience was completely the opposite. Our complaints can be summarized as follows: it is far away from Waikiki, you're forced to watch a video before you can go to the beach, you have to pay admission for this privilege, and the snorkeling is incredibly disappointing once you finally get down to the beach. If you're in Waikiki, I would strongly recommend against going to Hanauma Bay. There are probably much better places to go snorkeling elsewhere on Oahu, and certainly on other islands.
In addition to the above complaints, the water was also quite murky and shallow. While snorkeling, we couldn't see that far ahead of us. Occasionally, large rocks would suddenly appear, and make the water too shallow to swim through. the rocks were almost touching the surface of the water. Combined with how murky the water was, this was a very unpleasant place to snorkel. We saw very few fish, and the ones we did see looked hazy in the murky water. We heard there was a sea turtle further out, but we never got the opportunity to see it.
Getting There
Visitors can drive, take a taxi, or take bus number 22 from the Waikiki area. The beach is pretty far away (approximately 1 hour by bus), and will probably cost around $50-$60 if you take a taxi. If you drive, there is a pay parking lot at Hanauma Bay, but it occasionally gets full (and then you will be turned away). Taking the bus is probably the most efficient and cost effective way to get here.
Cost
Visitors must pay $5 each to enter the beach area.
Estimated Visiting Time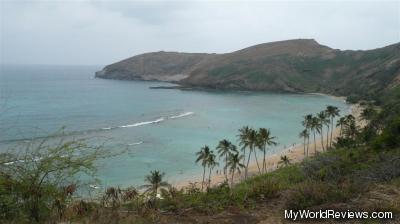 After you pay admission, you must watch a video presentation telling you to "look but don't touch". This isn't hard to do, since there isn't much to see here. After you finally make it down to the beach, you can spend as long as you like there. I didn't think the beach was any better than the Waikiki Beach Strip, so you may just want to spend your time there, instead (it's free, and just as nice).
review contents
Getting There
Cost
Estimated Visiting Time
related reviews
More reviews in Honolulu, HI
Been here? Want to write your own review of this attraction?
linked reviews