Your Reviews About the World
MyWorldReviews.com
Let the world know what you think
Waikiki Beach Strip
Honolulu, Hawaii, United States
Waikiki Beach
Honolulu, Hawaii, United States
View Map
Overall Experience:
9 / 10
Date Visited:
Tuesday, May 20, 2008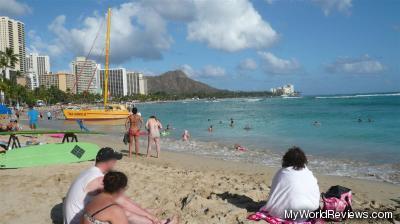 Waikiki Beach and hotels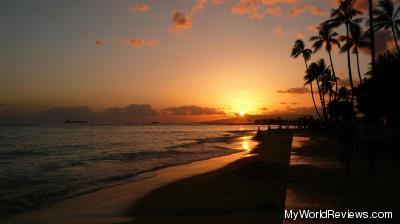 Sunset from Waikiki Beach
Waikiki Beach on the island of Oahu, Hawaii, is probably the nicest beach I've been to. The beach itself is beautiful, and the area surrounding it is very built up and touristy. It has a little bit of a "Las Vegas" feel, with a beach! There are many big hotels, restaurants, and stores on the beach and in the immediate area.
The beach itself is made up of a very nice soft sand. It is great to walk through, and also great to sit on. There are a wide variety of vendors up and down the beach that rent out surf boards, body boards, snorkels, and other water toys. Before you rent any, be sure to check with one of the many ABC stores just off the beach. For some items (like body boards), you can purchase a board for the same price it would cost to rent it for the day.
In the evening, we went looking for a nightclub on the beach, but we weren't able to find one. There were a few nightclubs off the beach, but we only managed to find one that was playing dance music, and it had a restrictive dress code.
Just off the beach, there is a huge selection of restaurants that make this a fun place to vacation for a couple days. There are also some other attractions, such as the USS Arizona Memorial, but the main attraction is definitely the beach.
related reviews
More reviews in Honolulu, HI
Been here? Want to write your own review of this attraction?
linked reviews