Your Reviews About the World
MyWorldReviews.com
Let the world know what you think
HK
New York, New York, United States
523 Ninth Avenue
New York, New York, United States
10018
212-947-4208
View Map
Overall Experience:
8 / 10
Date Visited:
Sunday, September 28, 2008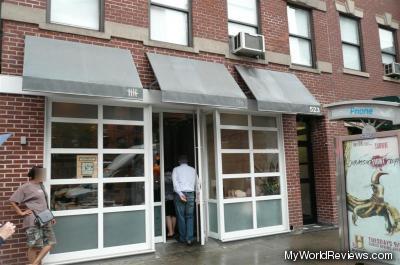 HK Restaurant
Seating:
Indoor dining room
HK is an American restaurant located in the Hell's Kitchen area of Manhattan (at the corner of 39th street and 9th Ave). They offer a reasonably priced weekend brunch, with optional unlimited drinks for a set price ($13 when we visited).
I was quite impressed with both the decor of the restaurant and the quality of the food they served. The restaurant has a clean and modern interior, and their brunch food was quite tasty. It is also worth checking out their bathrooms, which have a unique modern decor.
For brunch, they offer some typical breakfast dishes with clever upscale modifications. Visitors can also order off their standard lunch menu.
Dress
Very casual
Cost
Breakfast items ranged from $6.95 (for a croissant) to $14 for eggs benedict.
Service
The restaurant was quite busy when we arrived, but we managed to get a table without having to wait. By the time we left, there were lots of people waiting for a table. Going earlier in the day for brunch (11a) will probably minimize the amount of time you have to wait for a table.
Items Ordered
Cappuccino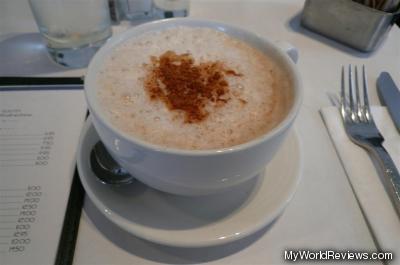 Cappuccino
This cappuccino was really quite good. It had a delicious coffee flavor.
Croissant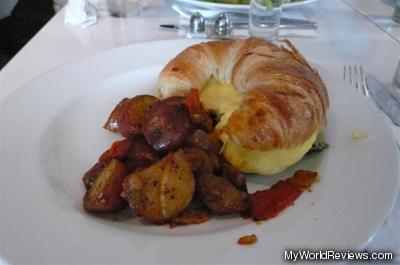 Croissant
with Greek spinach pie and scrambled eggs
This dish wasn't what I was expecting, but I was pleasantly surprised. The croissant was warm and light. There was a lot of spinach inside, so the sandwich had the strong flavor of spinach that went well with the egg. The egg was pretty plain, but made this a good breakfast choice.
Even better than the delicious croissant sandwich, was the potatoes. They were deliciously spiced and came with a few slices of sweet red pepper.
French Toast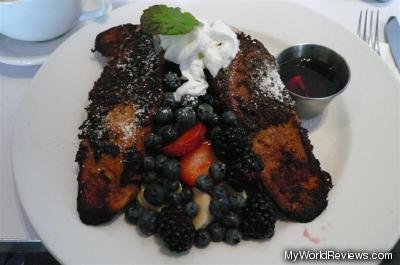 French Toast
with maple syrup and fresh fruit
I couldn't believe the quantity of fruit that the french toast was served with. There were lots of blueberries and bananas, with a smaller number of strawberries and blackberries.
The french toast itself was also very good. The french toast slices were cut from a baguette, and were coated with cinnamon on the bottom. The french toast was served with syrup, but I found the french toast sweet enough on its own.
review contents
Dress
Cost
Service
Items Ordered
Cappuccino
Croissant
French Toast
related reviews
More reviews of this restaurant
More reviews in New York, NY
Been here? Want to write your own review of this restaurant?