Your Reviews About the World
MyWorldReviews.com
Let the world know what you think
Guy & Gallard
New York, New York, United States
1001 6th Ave
New York, New York, United States
212-730-0010
www.guyngallard.com
View Map
Overall Experience:
6 / 10
Date Visited:
Saturday, October 11, 2008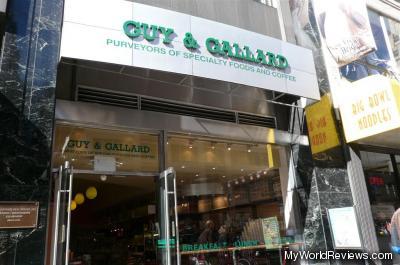 Guy & Gallard on 6th Ave
Guy & Gallard is a cafe style restaurant that sells sandwiches, soups, and salads, as well as some hot foods. Their food and prices are very similar to Pax Wholesome Foods.
Dress
Very casual.
Cost
Prices are average. A sandwich and salad combo cost $6.95.
Service
Place your order at the counter, pay at the cash, and then seat yourself at a table to eat.
Items Ordered
Italiano Panini and Salad Combo
Italiano Panini with Side Salad
Grilled chicken, roasted peppers, mozzarella, pesto.
The panini was really good. The pesto and roasted peppers gave the sandwich a lot of flavor. It was served hot from the grill. Heating it up melted the cheese so it was nice and creamy.
The salad was not a make-your-own. They packed it with lettuce, cucumber, tomatoes, and carrots. I chose a lemon herb dressing. The dressing comes in a little container, so you can chose how much of it you want to put on your salad.
review contents
Dress
Cost
Service
Items Ordered
Italiano Panini and Salad Combo
related reviews
More reviews in New York, NY
Been here? Want to write your own review of this restaurant?
linked reviews