Your Reviews About the World
MyWorldReviews.com
Let the world know what you think
Pax Wholesome Foods
New York, New York, United States
202 East 42nd St.
New York, New York, United States
212-972-5600
www.paxfood.com
View Map
Overall Experience:
6 / 10
Date Visited:
Friday, October 10, 2008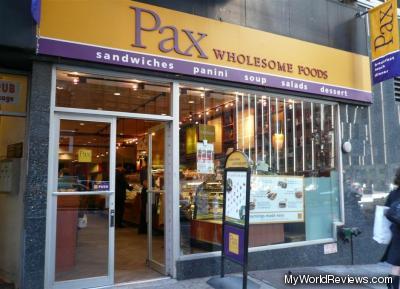 Pax Wholesome Foods on 42nd
Cuisine:
Soup, Salad, Sandwiches
Pax is a chain of restaurants in NYC. They offer a variety of sandwiches, soups, and salads. Some of the locations also sell pizza, but not this location. Their food is pretty healthy and makes a great lunch.
This restaurant was fairly small, but had several tables to sit at inside.
Dress
Very casual.
Cost
The prices are pretty typical for this type of food. Most items are between $5-$10.
Service
There is no table service. You place your order at the counter, pay at the cash register and sit wherever you can find a place to sit.
Items Ordered
BBQ Beef Zesto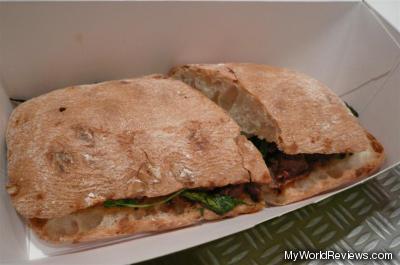 BBQ Beef Zesto
Smokey thin-slices of grilled flank steak, Swiss cheese, and tangy arugula. Served on a fresh baked onion hero.
The Zesto sandwiches are served warm, which was great for this sandwich. The beef was very tender and tasty. The cheese was just starting to melt. The bread was also pretty good, although I didn't think it tasted much like onion.
Create-Your-Own Salad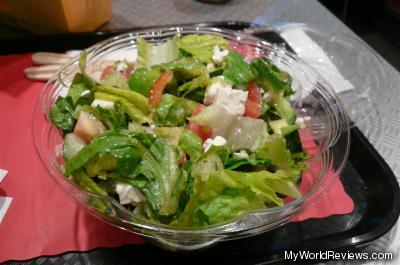 Create-Your-Own Salad
Cost:
$3.25 for small + $2.25 for toppings
To create your own salad you pick a lettuce - spinach, iceberg, or romaine. Then let the person making your salad know which toppings you would like and which dressing. Most vegetable toppings were $0.50, while cheese is $0.75.
This salad was ordered with tomatoes, cucumbers, peppers, feta cheese, and fat-free lemon herb dressing. I really like the lemon-herb dressing. It's not greasy, but still tastes great.
review contents
Dress
Cost
Service
Items Ordered
BBQ Beef Zesto
Create-Your-Own Salad
related reviews
More reviews in New York, NY
Been here? Want to write your own review of this restaurant?