Your Reviews About the World
MyWorldReviews.com
Let the world know what you think
Grand Masonic Lodge of New York
New York, New York, United States
71 W 23rd St
New York, New York, United States
www.nymasons.org
View Map
Overall Experience:
8 / 10
Date Visited:
Sunday, October 5, 2008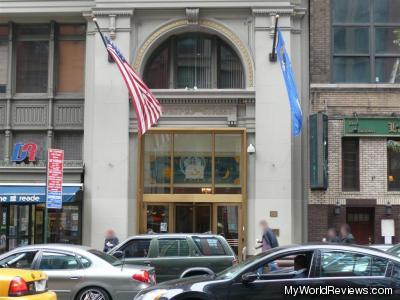 Entrance to the Lodge of the Grand Masons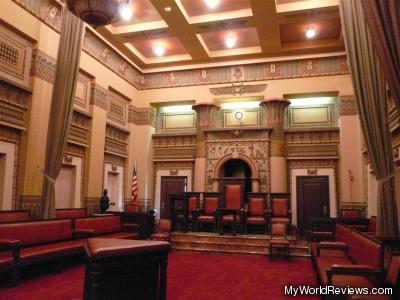 One of the Lodges of the Masons
The Grand Lodge of Free and Accepted Masons in New York City offers free tours of their building throughout the year by request. For Open House NY, they ran tours throughout the day, without reservations. We were fairly impressed with the tour - it is a nicely decorated building. This was definitely a "different" tour; I have never been to any masonic lodge, and had no idea what to expect.
The tour takes you through all 12 halls of the building. At each floor we had a different tour guide. The tour gave quite a bit of information about the Free Masons - who they are and what they do, but there was still a lot of mystery about them.
One advantage of having a different tour guide for each floor was that they all gave different answers to the same questions. Some of the people took their duties quite seriously, while others were more relaxed. One guide said that his group mainly gets together to eat french food and drink wine.
Although the masons did their best to answer questions, they would often give an answer like "It's something to do with a ceremony we have" if they didn't want to give a real answer that would tell you a bit more about them.
Each of the rooms, called a lodge, has the same size, orientation, and furniture. However, they are each decorated differently. The rooms were beautifully decorated and painted. A lot of work went into the restoration of the artwork and decor. It was neat to see how they could decorate the same room in so many different ways.
This tour, like all tours participating in Open House NY, was free. The tour we went on lasted almost two hours, although they told us it would only take an hour at the beginning. The tours started every 20 minutes, so we had a short wait in line before we were able to start our tour. The tour began with a short overview of the masons before we started visiting each of the rooms. At each of the rooms we had the opportunity to ask questions. The group had about 30 people in it, so perhaps the numerous questions made the tour a bit longer.
related reviews
More reviews in New York, NY
Been here? Want to write your own review of this attraction?
linked reviews