Your Reviews About the World
MyWorldReviews.com
Let the world know what you think
Giovanni Pastrami
Honolulu, Hawaii, United States
227 Lewers St., Suite 118
Honolulu, Hawaii, United States
96815
808-923-2100
giovannipastrami.com
View Map
Overall Experience:
6 / 10
Date Visited:
Wednesday, May 21, 2008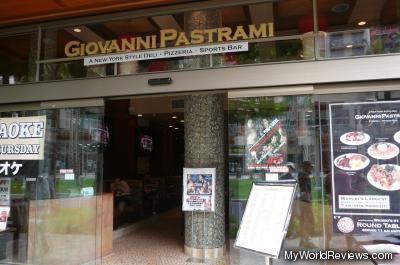 Seating:
Indoor dining room
Giovanni Pastrami's is a sports bar style restaurant in Waikiki, Hawaii. Their specialties seem to be sandwiches and pizza. Their service seemed to be a bit slow. After ordering our lunch (a sandwich), it took about 20 minutes for it to arrive. The restaurant is nicely decorated and looks slightly upscale, but it's bit on the expensive side. I don't think the quality of food is quite good enough to warrant their prices.
Dress
This is a sports bar - dress is very casual.
Cost
Everything in Waikiki is a bit overpriced - this place is no exception.
Items Ordered
Cold Roast Turkey Bread Sandwich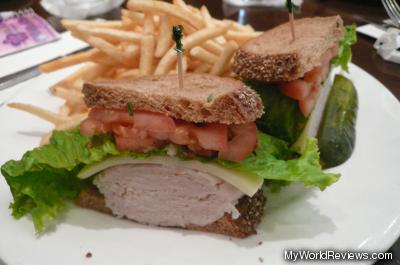 Cold Roast Turkey Breast
All sandwiches served on rye bread with lettuce, sliced tomato and mayo unless otherwise specified or requested. Served with your choice of potato salad, macaroni salad, cole slaw, or french fries
Cost:
$14.45 ($12.95 + $1.50 for cheese)
This turkey sandwich was a bit on the small side, although it did have a lot of meat. It took the restaurant a long time to make it, and it was really only mediocre. It was a typical sandwich, but certainly not worth the $14.45 that we paid for it. The fries were thinly sliced, and were quite tasty.
review contents
Dress
Cost
Items Ordered
Cold Roast Turkey Bread Sandwich
related reviews
More reviews of this restaurant
More reviews in Honolulu, HI
Been here? Want to write your own review of this restaurant?