Your Reviews About the World
MyWorldReviews.com
Let the world know what you think
Giovanni Pastrami
Honolulu, Hawaii, United States
227 Lewers St., Suite 118
Honolulu, Hawaii, United States
96815
808-923-2100
giovannipastrami.com
View Map
Overall Experience:
6 / 10
Date Visited:
Tuesday, May 20, 2008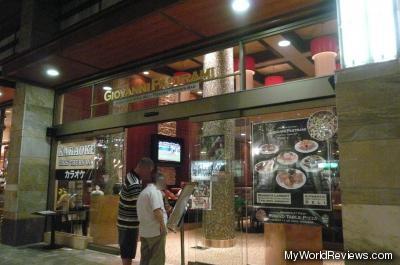 Seating:
Indoor dining room
Giovanni Pastrami is a typical American-style restaurant that serves pizza and sandwiches. It is located in the Waikiki beach area of Honolulu, on the Hawaiian island of Oahu. The restaurant has a "sports bar" feel, but serves slightly higher quality food. Still, from the outside, we had higher expectations for this restaurant. The restaurant is nicely decorated and modern looking.
The menu had a large selection of pizza and sandwiches. The sandwiches did look very large, although we didn't try any during this visit. The restaurant also offered all-day breakfast.
During our visit, the service was quite slow. We went for dinner around 8:00pm (many people have late dinners in Waikiki). We ended up waiting approximately 30 minutes after ordering for our pizza to arrive.
I didn't notice an outdoor seating area at this restaurant. I also noticed that we were seated at one of a few tall tables with bar stools that weren't very comfortable to sit in.
Cost
This restaurant, like most in the Waikiki area, is a bit more expensive than average. A medium pre-configured pizza is $21.95. Most sandwiches are $12.95.
Dress
Very casual - shorts and a t-shirt are fine.
Items Ordered
Create Your Own Pizza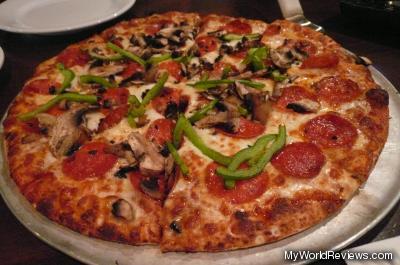 Medium pizza
All of our pizzas are available in "original" thin crust. Pizza dough made fresh daily. The pizza comes with three cheese: mozzarella, cheddar, and provolone, and the sauce of your choice.
Cost:
$15.95 for a medium cheese pizza, plus $1.50 for each topping
Although this pizza looked fantastic, it really tasted just like a typical pizza. There wasn't anything special about it. The pepperoni had a nice little spice. Nobody in our group could taste the three cheeses - the cheese tasted just like mozzarella.
review contents
Cost
Dress
Items Ordered
Create Your Own Pizza
related reviews
More reviews of this restaurant
More reviews in Honolulu, HI
Been here? Want to write your own review of this restaurant?