Your Reviews About the World
MyWorldReviews.com
Let the world know what you think
Di Palo's Fine Foods
New York, New York, United States
200 Grand St.
New York, New York, United States
10013
212-226-1033
View Map
Overall Experience:
8 / 10
Start Date:
Saturday, August 30, 2008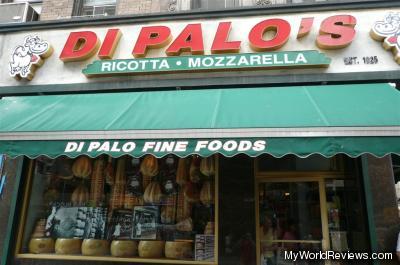 Di Palo's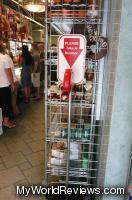 Take a number at Di Palo's
Di Palo's Fine Foods is an Italian deli located just around the corner from Little Italy in New York City. They are an "old fashioned" deli where the employees are conversational, and try to help you with your cooking for the week. If you have a question about what cheese to use, or how a certain dish should be prepared, be sure to ask - you'll likely get some helpful advice.
Of course, the fantastic service at Di Palo's comes at a price. When you first enter the store, you will see a "Take A Number" machine greeting you. You will likely be waiting for awhile. We visited on a Saturday afternoon, and waited for approximately 25 minutes (11 numbers, but some of these were "no shows"). Depending on how many people are in front of you, you may want to take a number and go for a walk, or get a coffee. Be sure to be back before your number is called, or you will have to get a new number!
The staff is very friendly. When you're investigating purchasing a cheese, feel free to ask for a taste. Not all the staff is equally knowledgeable, but some of the people really know their cheeses, and will help answer any cheese questions you have.
Inside Di Palo's Fine Foods, you will find a selection of high-quality imported Italian products. The store is known for its fresh mozzarella, fresh ricotta, and imported Parmesan cheese. Real Parmesan cheese is only "Parmesan" if it comes from Parma in Italy. Outside of Europe, there aren't any restrictions on the word Parmesan. If you haven't tried real Parmesan cheese, trying some at Di Palo's is a great experience!
Cost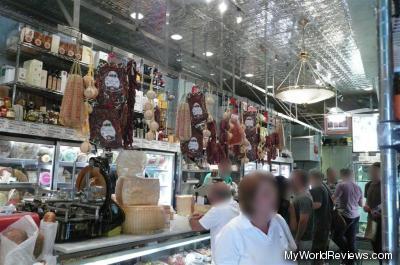 Inside Di Palo's
Food products at Di Palo's are a bit on the expensive side, but you're paying for very high quality products, and helpful service. The Parmesan cheese was $14/pound, while the fresh Ricotta and Mozzarella were closer to $5/pound.
review contents
Cost
related reviews
More reviews in New York, NY
Been here? Want to write your own review of this Italian Deli?
linked reviews