Your Reviews About the World
MyWorldReviews.com
Let the world know what you think
Cold Stone
New York, New York, United States
253 W 42nd Street
New York, New York, United States
10036
212-398-1882
coldstonecreamery.com
View Map
Overall Experience:
7 / 10
Date Visited:
Tuesday, August 5, 2008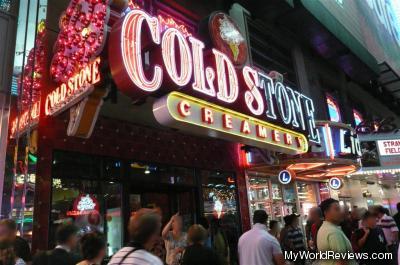 Cold Stone is a chain of "gourmet" ice cream restaurants. This store is located in Times Square, NYC. Times Square is always really busy, and so are the stores in the area. The Cold Stone has two lines (one on each side), but they're not very well organized. To order, you have to push your way to the back of the store (where the ice cream is located), and then get someone to take your order. They will then scoop your ice cream, and make it for you. The store was small and didn't have any seating available.
At Cold Stone, you can either choose to make your own ice cream combination, or choose one of their "Signature Creations". The Mud Pie Mojo (what we ordered) was one of the signature creations.
Cost
In general, Cold Stone is a bit of a fancier ice cream place, so expect to pay a bit more. For a small cup, we paid $5.53.
Dress
Very casual
Items Ordered
Mud Pie Mojo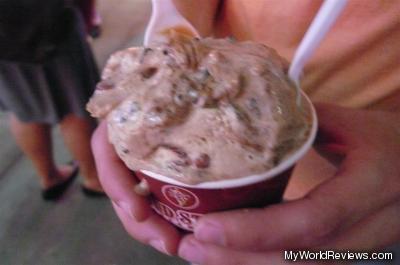 Mud Pie Mojo
Coffee ice cream with oreo, peanut butter, roasted almonds & fudge
Cost:
$5.53 (after tax) for a small
The Mud Pie Mojo was pretty good. It was just what I was looking for in an ice cream. There were lots of "bits" of nut and oreo cookie. Although we ordered a small, it was a good size for sharing. They fill the cup to overflowing.
review contents
Cost
Dress
Items Ordered
Mud Pie Mojo
related reviews
More reviews in New York, NY
Been here? Want to write your own review of this restaurant?
linked reviews