Your Reviews About the World
MyWorldReviews.com
Let the world know what you think
Casa Bella
New York, New York, United States
127 Mulberry Street
New York, New York, United States
10013
casabellarestaurant.com
View Map
Overall Experience:
4 / 10
Date Visited:
Saturday, September 27, 2008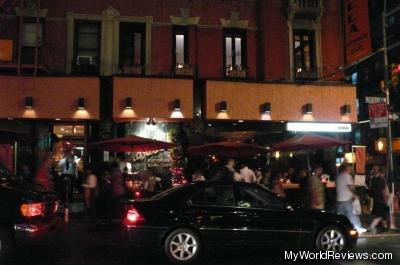 Casa Bella
Seating:
Indoor dining room
Casa Bella is a restaurant in Little Italy offering Italian food. It's similar to many of the other restaurants in the area, but it's a bit more expensive considering their smaller portions. I found the staff to be unhelpful and unaccommodating.
We were "sold" on this restaurant by the sales person at the front door. We were looking at the menu, and he came over to chat with us. He told us the restaurant had a 27 Zagat rating, a high Michelin rating, and that it had won other awards. When we questioned him about the Michelin rating he described it as something different from the Michelin ratings we knew about. (I suppose that should have been our clue to turn away). I don't know what category the 27 Zagat rating was in, since when we looked in our "2008 Zagat" book, the restaurant wasn't rated. The online website showed very poor reviews.
Our new motto is that the more aggressive the sales person at the front of the restaurant, the worse the restaurant. Many of the restaurants in Little Italy serve food that is nearly identical. I would recommend choosing a cheaper restaurant.
Dress
Very casual
Cost
A bit more expensive than other restaurants in the area.
Service
The person at the front door misled us about the restaurants reviews. The menu lists half portions (for smaller appetites) area available before 7pm, but we were told the half portions weren't available during the weekend (although the menu didn't mention that restriction). The restaurant also charges a $3.50 fee *per person* when you share an entree. There is a minimum charge of $10/person, and the restaurant only provides one check per table.
The restaurant was not very accommodating for our requests. I was disappointed they wouldn't give us a half portion at that time, since the half portion was clearly listed on their menu. The misleading sales person at the front just made it an even more unpleasant experience.
Items Ordered
Bread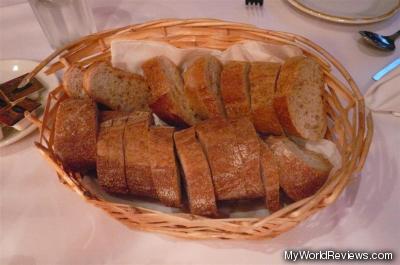 Bread
Our table was presented with a basket of white bread. The white bread was pretty typical, and came with the usual packets of butter that most of the restaurants in Little Italy tend to use.
Tortellini Casa Bella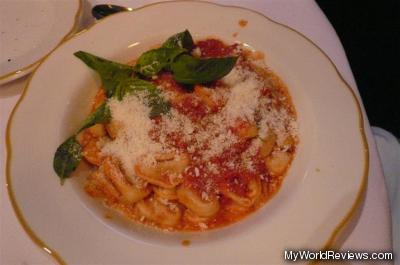 Tortellini Casa Bella
Meat tortellini in fresh cream or marinara sauce
The meat tortellini at Casa Bella was pretty average. There was nothing special about it. We weren't able to identify what meat it was, but it was relatively tasty nevertheless. There were a few leaves of fresh basil served ontop which actually tasted very good when cut up and mixed in.
This tortellini was ordered with the marinara sauce, although a cream sauce was also available as an alternative.
Pollo Rosso & Bianco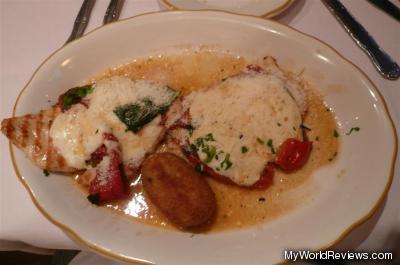 Pollo Rosso & Bianco
Grilled chicken breast with roasted peppers & mozzarella
The chicken itself was pretty good - it was a typical breaded chicken topped with cheese and red pepper. I was disappointed that the dish wasn't served with pasta. Many of the other restaurants in Little Italy provide some sort of pasta as an accompaniment to meat dishes.
There was a small fried mashed potato ball served with the dish. It was interesting and tasty, but small.
Although the chicken was decent, there are other restaurants very close by that provide a better meal for similar or better prices.
review contents
Dress
Cost
Service
Items Ordered
Bread
Tortellini Casa Bella
Pollo Rosso & Bianco
related reviews
More reviews in New York, NY
Been here? Want to write your own review of this restaurant?
linked reviews