Your Reviews About the World
MyWorldReviews.com
Let the world know what you think
Carrabba's
Sarasota, Florida, United States
1940 Stickney Point Rd.
Sarasota, Florida, United States
34231
941-925-7407
carrabbas.com
View Map
Overall Experience:
4 / 10
Date Visited:
Sunday, February 15, 2009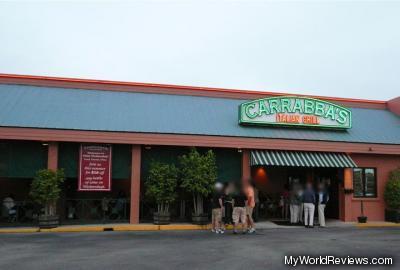 Carrabba's in Sarasota
Carrabba's is a chain of Italian restaurants. They typically offer slightly higher than average food for reasonable prices. I was somewhat disappointed this time - my entree was ridiculously salty. Still, I have had a number of positive experiences in the past, and would probably not hesitate to eat here again.
Dress
Casual - shorts and a t-shirt are fine.
Cost
Fairly average - appetizers range from $4-$11. Pizzas are around $10, and entree are around $10-$15.
Reservations
If you arrive early at this location (probably around 5-5:30pm), you will probably be able to find indoor seating. Otherwise, there may be a wait. The outdoor tables are first-come-first-served, so you may need to jump on an outdoor table quickly! (You can often get an outdoor table much faster than waiting for an indoor table if you arrive later)
Items Ordered
Bread and dipping oil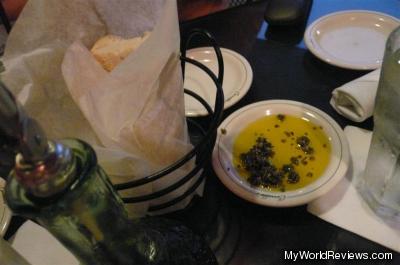 Bread and dipping oil
One of the best parts about Carrabba's is their dipping oil. They bring out a dish of salt and herbs with the bread, and there is a jar of olive oil that you can mix with the herbs. It creates a delicious dipping oil for the bread.
Grilled Bruschette of the day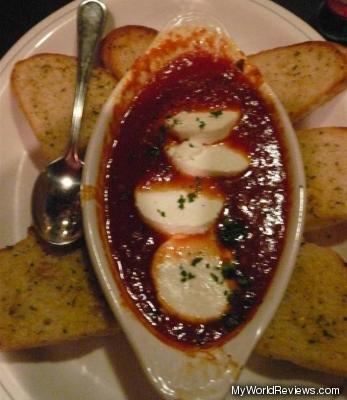 Grilled Bruschette of the day
With the Chef's fresh toppings of the day
This bruschetta was pretty good, but it was not a traditional bruschetta. It consisted of garlic bread, with a tomato sauce and soft goat cheese for spooning on top. It was a relatively large serving, and good for sharing between a few people.
Salad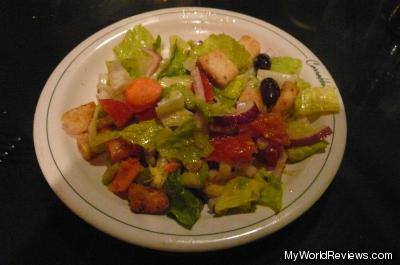 Mediterranean Salad
House, Italian, Caesar, or Mediterranean Salad
The salad was a reasonable salad. We chose the vinaigrette dressing, but they put a bit too much on. Next time I would ask for the dressing on the side. It was a pretty small salad, but was a fair size for a side salad.
Chicken and Spinach Cannelloni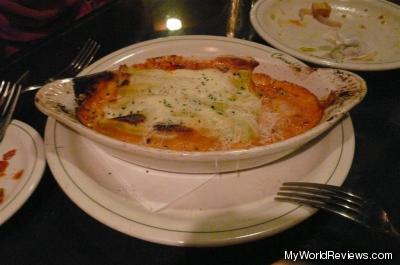 Chicken and Spinach Cannelloni
Stuffed with chicken, spinach, garlic, fresh herbs, fontina and romano cheese, topped with pomodoro and cream sauce
The Cannelloni was very disappointing. The description makes it sound fancy and delicious, but it's a very plain cannelloni that is loaded with salt.
The dish contained two cannelloni that had cheese and chicken inside. They were really lacking flavor - the salt completely overpowered everything else here. The chicken also seemed like a pretty poor quality of chicken that was just thrown in without really adding anything to the dish.
Chocolate Mousse Dessert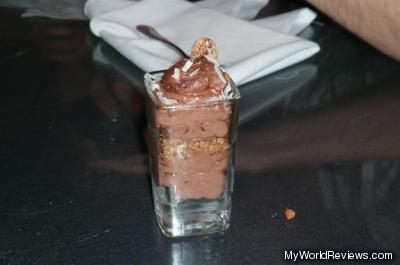 Chocolate Mousse Dessert
The mini desserts at Carrabba's come in a small cup. They're small enough that you can probably still enjoy one (or share one), even if you're full after dinner.
This dessert was a chocolate mousse with an espresso soaked double fudge brownie, and some coconuts and cream on top. It was mostly mousse - I didn't see much fudge brownie anywhere. It was nice and chocolaty.
review contents
Dress
Cost
Reservations
Items Ordered
Bread and dipping oil
Grilled Bruschette of the day
Salad
Chicken and Spinach Cannelloni
Chocolate Mousse Dessert
related reviews
More reviews of this restaurant
More reviews in Sarasota, FL
Been here? Want to write your own review of this restaurant?